Camphor Essential Oil Manufacturer in India
Camphor, popularly known as kapur, is a chemical naturally derived from the wood of camphor trees, scientifically known as Cinnamomum camphora. It has a strong aroma & taste. Kapur is known for its many therapeutic benefits. It is used for medicinal purposes in Ayurveda, camphor balls are also used to keep pests out of the fabrics.
What is Camphor Essential Oil?
Camphor essential oil is extracted through steam distillation of the various parts of the camphor tree to create camphor oil. However, many modern camphor products contain synthetic camphor oil, derived from turpentine.
Camphor has a breathtakingly strong, woody aroma. It can be found in all sorts of medicinal and herbal remedies, from decongestants to muscle rubs. Camphor oil is readily absorbed by the skin, making it an invaluable topical solution to your aches and pains.
Aadhunik Ayurveda is the best manufacturer, supplier & wholesaler of camphor essential oil in India. This steam distilled oil is 100% free from chemicals with no added preservatives and has therapeutic properties.
Types of Camphor
There are four distinct fractions of camphor oil: white, brown, yellow, and blue camphor. White camphor is the form that is used for aromatherapy and other products. Yellow and brown fractions often contain the carcinogen safrole and are generally unavailable.
Uses of Camphor
Camphor has many uses because of its antibacterial and antifungal properties. It is used in various beauty and pharmaceutical products. It has a cooling effect on the skin. Most of the camphor products are available in the form of sprays, cream, ointments, or balm. It is also a major ingredient in mosquito repellents. The uses of camphor are
Treats skin condition
Relieves pain, especially headaches
Enhances the respiratory function
Relieves cough and blockage of nose
Relieves muscle spasms, cramps, and stiffness
Treats fungal infections on skin and toenails
Benefits of Camphor Essential Oil
Camphor is known to have a lot of health benefits and these days, when essential oils are really becoming popular, the amazing health benefits of camphor essential oil needs to be known.
Benefits for skin
Camphor has antifungal and antibacterial properties that may relieve skin itching and irritation
Camphor can be used to relieve pain and swelling and it can be used to remove the burn scars as well.
Camphor is also used to relieve eczema and control itching.
Camphor contains certain anti-inflammatory compounds that could help provides relief from skin rashes
Camphor have antifungal and antibacterial properties that help to treat fungal and bacterial diseases.
Benefits for hair
Camphor oil benefits hair in many ways. It has natural moisturizing and anti-bacterial properties. It detoxifies the scalp and is used in treating many hair problems like.
Treat scalp irritation and itchiness
Treats fungal infections like scalp ringworm
Improve the texture of hair
Control dryness, breakage, and split-ends
Prevents premature greying of hair
Improve blood circulation on the scalp
Prevents formation of dandruff, hair fall and balding
Benefits for health
Some health benefits of camphor oil are
It provide relief from gas
It reduces inflammation
Camphor oil is used to reduce joint pain
Camphor oil used as natural remedy to prevent malaria
It may also help to treat cardiovascular problems
It may also treat cold and cough
Side effects of Camphor
Camphor is likely safe for most adults when applied to the skin in a cream or lotion in low concentrations. Camphor can cause some minor side effects such as skin redness, irritation, nausea, vomiting, liver problems and other respiratory problems.
People undergoing major surgery, taking prescribed medicines, stroke, or major health issues should consult their doctor before using any camphor products.
Best Manufacturer and supplier of Camphor Essential Oil in India
Aadhunik Ayurveda is the best top camphor essential oil manufacturer and supplier in India. It is the only manufacturer that makes use of our traditional clean technique of making essential oil whom you can trust for quality as you can always watch the dripping essential oils in the distillery.
This chemical free steam distilled technique of making of essential oils, makes aadhunik ayurveda the only manufacturer, wholesaler and supplier of essential oil.
Making of Camphor Essential Oil at Aadhunik Ayurveda
At Aadhunik Ayurveda fresh camphor leaves are stem distilled through the ancient techniques of steam distillation to make camphor essential oil. The process gives complete natural camphor oil with no addition of any synthetics.
Precaution
A drop of essential oil is purely the volatile ark of camphor in the form of oil; hence it is very powerful and concentrated and hence should always be used under proper guidance. Keep it out of reach of children. Always do a suitability test before using it regularly. Do not swallow without diluting it.
Physico-chemical and Phytochemical Study & Microbial Analysis of Camphor Hydrosol
Abstract: Camphor tree (Cinnamomum camphora) is an ornamental plant that has been cultivated for a long time to obtain wood or camphor. Furthermore, its hydrosol/aromatic water can be used as an alternative medicine and is an important source of perfume.
Camphor obtained from camphor trees has long been used as a treatment for various symptoms such as inflammation, infections, congestion, muscle pain, and irritation in various regions.
Introduction
Cinnamomum camphora is a large evergreen tree. The leaves of camphor leaves a glossy, waxy, appearance & smell of camphor when crushed.
Modern studies have found that the main chemical constituents from camphor hydrosol were flavonoids, tannins, glycosides etc.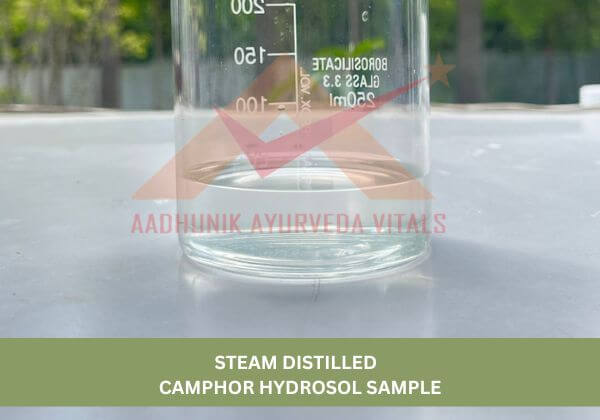 The biological activity of camphor has mainly demonstrated anti-bacterial, anti-oxidation, anti-inflammatory and analgesic.
The aim of present study is to evaluate the herbal waters/ hydrosol of Camphor leaves obtained as innovative commercial products of a steam distillation process.
The following tables provide records on the most commonly tested physico-chemical, phytochemicals, and Microbiological evaluation in Camphor Leaves Hydrosol.
| | |
| --- | --- |
| Product Name | Camphor Leaves Hydrosol/Herb Water |
| Botanical Name | Cinnamomum camphora |
| Manufacturing Process | Steam distillation only |
| Part Used | leaves |
| Produce | 100% chemical & preservative free |
| Usage | Health & Wellness, & Aromatherapy |
| Cultivation | Parts of India |
Experiment
The aim of this work is done to analyse the physicochemical, phytochemical and microbial activity test of Camphor leaves hydrosol.
1.1 Physico-chemical Analysis of Camphor Leaves Hydrosol
Various physico-chemical parameters of Camphor leaves hydrosol were analysed which were important for production of value added products.
Result of physicochemical attributes of analysis in a sample of Camphor Leaves Hydrosol
| | | |
| --- | --- | --- |
| Properties | Specifications | Results |
| Physical Appearance | Transparent liquid, like water | Conforms |
| Colour | Clear colorless to slightly liquid | Conforms |
| Odour | Fresh, penetrating, powerful camphoraceous and mild cinedic aroma | Conforms |
| Solubility | Soluble in water & alcohol, insoluble in fat/fixed oilss | Conforms |
| pH(25°) | 5-7 | 5.16 |
| Acid Value | 0.04% | Conforms |
| Refractive Index | 1.480-1.510@20° | 1.495 |
| Specific Gravity 9g/ml) | 0.875-0.930@25° | 0.897 |
1.2 Total Presents of Components
| | | |
| --- | --- | --- |
| Components | Range % | % |
| Camphor | NA | 24.35% |
| Limonene | NA | 2.99% |
| Linalool | NA | 0.19% |
1.3 Heavy Metals Test Result
| | | |
| --- | --- | --- |
| Heavy Metal Test | Specification (%) | Result(%) |
| Arsenic (As) | NA | Not detected |
| Lead (pb) | NA | Not detected |
| Mercury (Hg) | NA | Not detected |
| Cadmium (Cd) | NA | Not detected |
| Copper (Cu) | NA | Not detected |
1.4 Result of Phytochemical Analysis of Camphor Leaves Hydrosol
The following result were obtained after performing the phytochemical test:
This method includes the selective and successive extraction of the plant phytochemical. The analysis of the presence of the main group of natural constituents present in the plant extract was done using different specific reagents. Chemical tests were done to identify bioactive compounds of pharmacological importance through standard methods. Phytochemicals such as below were qualitatively determined
| | | | |
| --- | --- | --- | --- |
| S.No. | Phytochemical Tests | Sweet lime Hydrosol Specification | Results |
| 1. | Flavonoid | Highly presence of red colour | (+ve) |
| 2 | Tannin | Highly presence of greenish colour | (+ve) |
| 3 | Cardiac glycoside | Slightly presence of brown ring | (+ve) |
| 4 | Steroid | Highly presence of yellow-greenish fluroscence colour | (+ve) |
| 5 | Anthraquinone | No presence of pinkish colour, which immediately change in blue/violet colour | (-ve) |
1.5 Result of Microbial Analysis of Camphor Leaves Hydrosol
| | | |
| --- | --- | --- |
| Microbial | Specification | Results |
| Aerobic Mesophilic Bacterial Count | <100 CFU/g | Conforms |
| Yeast and Mould | <10 CFU/g | Conforms |
Description
Appearance- The Camphor leaves hydrosol/aromatic water is in a liquid form similar to water. That is because it is soluble in water.
Colour- The camphor leaves hydrosol is a clean, colourless slightly cloudy liquid.
Odour- The odour of Camphor hydrosol is derived from the leaves of a Camphor plant. The odour of Camphor aromatic water has a fresh, penetrating, powerful camphoraceous and mild cinedic aroma. However the aroma/odour changes from season to season with variety in its volatile compounds due to various factors like - temperature, rainfall, humidity and soil health etc.
Solubility- the camphor leaves hydrosol is soluble in water and alcohol but insoluble in fat/fixed oils.
pH- A pH of 7 is neutral, above 7 the pH is alkaline and below 7 the pH is acidic.
Acidity/Acidic- Camphor leaves aromatic water is acidic in nature as it has a low pH, as opposed to a base, which has a higher pH.
Specific Gravity- is used to define the weight of a liquid as compared to density at a specific temperature. If the specific gravity for a camphor leaves hydrosol is less than 1, that means the material will flow in the reference substances, and if the water sample is more than 1, that means the material will sink in the reference material.
Heavy Metals- this test is done to check for irregular levels of toxic or potentially harmful metals. The Heavy Metal Limit test is based on the reaction of metallic impurities with hydrogen sulphide or sodium sulphide in an acidic medium to provide metal sulphide which provides brown coloration.
Microbial Test- is important and required by many industries worldwide, where human health is at risk of being adversely affected by disease-causing bacterial & virus, and microbial toxins.
Microbiological evaluation of a camphor leaves hydrosol sample is the use of biological, biochemical, molecular or chemical methods for the identification of microorganisms in a sample.
Observations of Phytochemical Tests for Camphor Leaves Hydrosol
1. Flavonoid
Formation of red colour, which shows the presence of flavonoid in a sample.
2. Tannin
Formation of green colour, which shows the presence of tannin in a sample.
3. Cardiac glycoside
Slightly formation of brown ring, which shows there is no presence of cardiac glycoside in a sample.
4. Steroid
Formation of yellowish-greenish fluorescence, which shows the presence of steroids in a sample.
5. Anthraquinone
No formation of pinkish colour was observed, which immediately changed in blue/violet colour, which shows there is no presence of anthraquinone in a sample.
Conclusion
The result of this study shows that the Camphor leaves hydrosol indicates the presence of flavonoids, steroids, tannins, cardiac glycoside as major phytochemical groups.
FAQ
1. What is camphor?
Camphor is a crystalline compound, white in colour, derived from the wood of Cinnamomum camphora.
2. Is camphor leaves essential oil effective against viruses?
Yes, camphor is very active against the growth of viruses.
3. Is camphor safe for children?
Camphor might not be safe for use in children as its ingestion can lead to hepatoxicity and neurotoxicity.