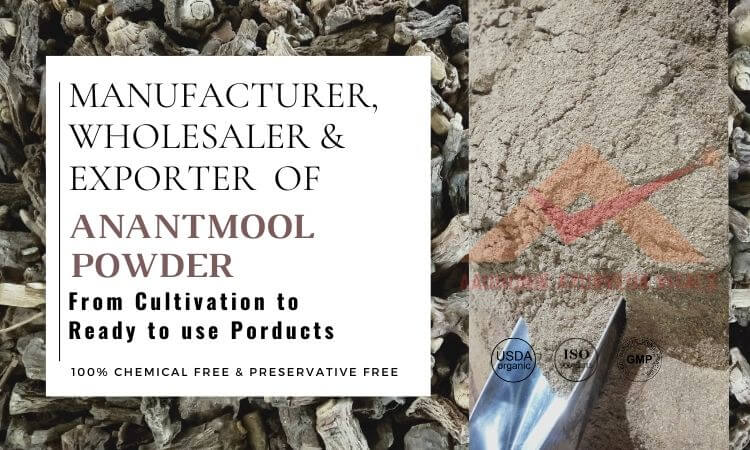 Anantmool Powder Manufacturer and Supplier in India
Aadhunik Ayurveda is the largest manufacturer, and supplier of Anantmool herbal powder in India. We are the top leading manufacturer, wholesaler & bulk supplier of Anantmool powder and other herbal powder that were used for centuries in food, skin and health and wellness industries. If your are the one searching for the top manufacturer of organic herbal powder, Aadhunik Ayurveda is the great one to source.
Sourcing of high-quality Anatmool Herb for Making Herbal Products
We at Aadhunik Ayurveda source high-quality Anantmool herb from best certified farmers cultivating from himalayan region and various place from India. This development of strong network connection with farmers over the years help us seek best quality herbs from the farmers.
Our aim is keeping quality intact, in fact helps us maintain their quality, aroma and taste. It's is an ancient ayurvedic herb, which plays an vital role in making health and wellness products.
Manufacturing of Anantmool Powder at Aadhunik Ayurveda
Making of Anantmool Powder at Aadhunik Ayurveda by using of traditional clean method of cold-pressing, hand milling coarse to fine powder technique to produce ready to use products for various remedies.
Used to make health supplements
Used in making infusions
Used to make skincare products
Used in making herbal powder
Used in food & beverages
And much more
We have a quite a decade of experience in producing and supplying a high quality range of natural and organic herbal powders like turmeric, Ashwagandha, Haritika Powder, Senna, manjistha and much more.
Each method used to make high-quality and nutrient rich quality products are the best world class with no use of chemicals or preservatives.
100% pure and vegan-plant derived ingredients only
100% edible, and free of harmful chemicals and adulterants
Scientifically backed & time-tested
This whole process of making Anantmool herbal powder and other herbal powders involves careful selection and process to keep the nutrients contained in the herbs. Our organic and chemical free Anantmool powder is edible and widely used in making ayurvedic products for skincare, healthcare and other wellness products.
Best Private Label Manufacturer of Anantmool Herbal Products
We at Aadhunik Ayurveda deal with various range of herbal Anatmool products with natural plant based ingredients and take care of all the safety aspects and the quality, this is the reason that Aadhunik Ayurveda stands above as No.1 most trusted manufacturer in India and around the world. We have the wide range of private label herbal products which includes.
Private Label Anantmool herbal powder
Private Label Anantmool booster powder
Private Label Anantmool health supplements powder
Private Label Anantmool wellness powder drink
Private Label Anantmool infused body oil
Private Label Anantmool churna
Private Label Anantmool ayurvedic powder capsule
And much more
Best Manufacturer, Supplier, Wholesaler and Exporter of 100% Organic Anantmool Powder in India
Aadhunik Ayurveda is the best USDA, ISO, & GMP certified manufacturer/producer, exporter, wholesaler and bulk supplier of edible Anantmool Powder in India and various countries around the world including Canada, Dubai, New Zealand, Thailand, Saudi Arabia, and more then 15 different countries.
We follow ethical manufacturing practices. We have experts for deep research and analysis of every aspect that helps us comply with the industry norms.
We can make custom formulation with Anantmool Powder like hair oil, food & beverages, skincare products, health supplements and other wellness products etc.
Our herbal and ayurvedic products are further packed conventionally using fusion of traditional & modern day practices like good manufacturing practices and other hygiene and safety related practices.
You will get our edible Anatmool Herbal Powder in wholesale bulk prices in different packages like in 1kjg, 5kg, 10kg, 20kg, 15kg, 50kg, 100kg, 200kg, and in different packages as per your desire.
Whether you are searching for high-quality manufacturer of ayurvedic herbal powders, food masala powder, floral water, and other organic powder. We at Aadhunik help our clients to establish a successful brand by guiding them through the entire process.
Looking for the best Manufacturer and wholesale bulk amounts of Anantmool Herbal Powder in India?
Aadhunik Ayurveda Vitals is the No.1 Private Label Manufacturer and bulk supplier of Anantmool herbal powder in India. We offer best quality range of more than thousands of natural plant ingredients that can offer both as single or in mix. It you are looking to make your own products from our ingredients, please have a look at our private label services and custom formulation products. For more information contact aadhunikayurvedavitals@gmail.com