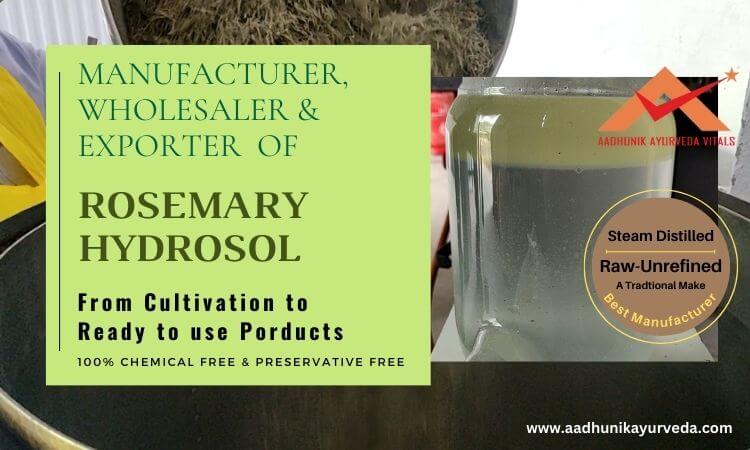 Manufacturer of edible Rosemary Hydrosol in India
Aadhunik Ayurveda is the one of the best manufacturers of edible Rosemary Hydrosol in India. We offer a wide range of steam-distilled hydrosol/herbal water to meet your distinct demands. We are proud to be one of the first few industries that are employed with the fusion of modern & traditional resources that makes us capable of understanding distinct clean customer demand & meeting them with our consistent supply.
We integrate a hygienic methodology to make sure clients get great and unadulterated quality.
Our Rosemary hydrosol/herb waters is a fragrant and versatile product made from the steam distillation of the leaves/twigs & flowers of the rosemary plant. It has a fresh and herbaceous scent that makes it a popular ingredient in many cosmetics and personal care products. Rosemary hydrosol is a great option for people who want to improve their overall health and wellness because it contains a lot of beneficial compounds, such as antioxidants, anti-inflammatory agents, and vitamins that are good for the skin.
Deep, strengthening, and enhancing botanical fragrance of this rosemary hydrosol smells precisely like fresh rosemary leaves and fills your senses with an invigorating and reviving aroma. The Pure Rosemary Hydrosol is a great addition to any beauty care recipe because rosemary contains a high amount of vitamin E on its own.
Since ancient times, this floral water has been used for skincare and cosmetics. Rosemary herb/floral water is known to have astonishing properties which provide various benefits to the skin.
Uses of edible Rosemary Hydrosol in Different Ways
Aadhunik organic Rosemary hydrosol is commonly used in-
Rosemary face mist/toner
Rosemary scalp toner
Rosemary body mist
Rosemary aroma diffuser
Rosemary wellness drink
Rosemary tea drops and much more
Making of 100% Natural edible Rosemary Hydrosol at Aadhunik Ayurveda
Making of edible Rosemary hydrosol at Aadhunik is unique in today's world as it is still made by using the best clean and healthy technique of steam distillation, which otherwise is difficult to find. This technique is 100% clean and eco-friendly and the product is the most potent, effective, and healthy for human use. This technique produces edible hydrosol. Therefore no one makes the best edible rosemary hydrosol as Aadhunik Ayurveda does.
Aadhunik Ayurveda is a 100% natural and clean manufacturing brand making just no use of any synthetic or preservative at all neither in making techniques nor in final products.
Private Label Manufacturer of Rosemary Hydrosol
Aadhunik Ayurveda is the No.1 leading Wholesaler, Manufacturer, Supplier, and Exporter of organic and natural Rosemary hydrosol.
Brands make significant use of Rosemary in their skincare, haircare and health and wellness formulation and therefore we have years of expertise in manufacturing skin and other health and wellness products with clean active ingredients like rosemary.
Private Label Rosemary Steam-distilled Hydrosol
Private Label Rosemary Face Mist/Toner
Private Label Rosemary Scalp Toner
Private Label Rosemary Tea Drops
Private Label Rosemary Diffuser Products
Private Label Rosemary Moisturizing Lotion
Private Label Rosemary Skincare Products
Private Label Rosemary infusion based products
And much more
Making of ingredients/product like rosemary hydrosol is a complete in-house process in a way that rosemary is sourced directly from the farmer in the wet form, it then steam distilled or dried as per the need. We usually do not believe in trading the items as it increases the cost and adds the overall cost to the final product.
Our Steam-distilled Rosemary Hydrosol is available in different pack sizes from 100ml, 250ml, 500ml, 1kg and much more.
Manufacturer, Supplier & Wholesaler of Pure & Natural Rosemary Hydrosol in India
Aadhunik Ayurveda is one of the leading manufacturers, suppliers and wholesalers of pure Rosemary hydrosol. Our Rosemary herbal water is pure and free of any chemicals, preservatives or additives. They do not contain artificial colours, fragrance or preservatives as it is 100% organic and steam distilled.
Aadhunik Ayurveda is the only top leading manufacturer and supplier of organic edible Hydrosol in India to many retail brands or companies and exports nationally and Internationally and some other parts of Europe. We deliver our organic rosemary herb water using our logistics partner.
Our company is USDA certified that allows us to manufacture the extensive and best range of ayurvedic products. In terms of product excellence and purity, our products adhere to the highest standards.
At Aadhunik we work totally in tune with our customer's needs, no one delivers the custom formulations with least investment and low moq's as we do. This further has helped our associate entrepreneurs and offer variety to their customer base.
Aadhunik Ayurveda offers potent, efficient, and healthy edible grade multi-purpose Rosemary Hydrosol at a great price. Do now not miss out on this opportunity.
Certificate of Analysis - COA of Rosemary Hydrosol
JPhysico-chemical, Phytochemical Analysis and Microbial Evaluation of Rosmarinus officinalis L. Hydrosol/Herb Water
Abstract
Rosemary is a well-known aromatic and medicinal plant whose consumption serves to remedy the number of problems. Its hydrosol/herbal water or say ark constitutes an important ingredient for well-being, feeling improvement through beauty products.
It contains a natural chemical constitution, which may be useful for various herbal formulations. Therefore, we here review the physico-chemical, and phytochemical compounds of Rosemarinus officinalis, using methanolic extraction. This phytochemical screened and the evaluation of antimicrobial activities of rosemary hydrosol.
Introduction
Originally grown in the Mediterranean, Rosemary (Rosmarinus officinalis) has been used traditionally as stimulant and slight analgesics. Its use since ancient times in traditional medicine is justified by its antiseptic, anti-inflammatory, and antimicrobial properties.
Phytochemicals are natural and organic substances derived from plants which work against diseases or specifically protect ones from diseases. The analysis of phytochemicals of rosemary in health & wellness therefore is necessary to be done to reveal its effects. The aim of this study was to analyze phytochemical substances in rosemary hydrosol and to determine potential substances in it.
Its use since ancient times in traditional medicine is justified by its antiseptic, anti-inflammatory, and antimicrobial properties.
The present work evaluates the aromatic waters, also known as ark of rosemary obtained as innovative commercial products of a steam distillation process.
The following tables provides information on the most commonly tested physico-chemical parameters and Microbiological analysis in Rosemary hydrosol
Table 1.1
Product Name
Rosemary Hydrosol/herb water
Botanical Name
Rosemarinus officinalis
Extraction Method
Steam distillation only
Part Used
Leaves(twigs) and Flowering Tops
Quality
100% chemical & preservative free
Usage
Food, Skin care, health & wellness (Aromatherapy)
Cultivation
Grown in himalayan belt (Uttarakhand)
Methodology
This analysis is done to analyze the physicochemical, heavy metals, phytochemical and microbial test activity of Rosemary hydrosol.
1.1 Physico-chemical Analysis
Various physico-chemical parameters of Rosemary hydrosol were analyzed which were important for production of value added products.
Result of physicochemical attributes of analysis in a sample of rosemary hydrosol
| | | |
| --- | --- | --- |
| Properties | Specifications | Results |
| Appearance | Liquid | Conforms |
| Colour | Clear, colorless | Complies |
| Odour | Fresh, smooth, woody-herbaceous odor | Complies |
| Solubility | Soluble in water & alcohol insoluble in fat/oils | Complies |
| pH (25°) | 3.5-7.5 | 4.2 |
| Refractive Index | 1.300-1.350 @20° | 1.338 |
| Specific Gravity 9g/ml) | 0.982-1.059@ 20° | 0.994 |
1.2 Result Heavy Metals Test
| | | |
| --- | --- | --- |
| Heavy Metal Test | Specifications (%) | Results (%) |
| Lead (pb) | NA | Not detected |
| Cadmium (Cd) | NA | Not detected |
| Copper (Cu) | NA | Not detected |
| Arsenic (As) | NA | No detected |
| Mercury (Hg) | NA | Not detected |
1.3 Result of Phytochemical Analysis of Rosemary Hydrosol
The following result were obtained after performing the phytochemical test:
| | | | |
| --- | --- | --- | --- |
| S.No. | Phytochemical Tests | Rosemary HydrosolSpecification | Result |
| 1. | Alkaloid | (+ve) | Highly present |
| 2. | Flavonoids | (+ve) | Highly present |
| 3. | Saponins | (+ve) | Highly present |
| 4. | Triterpenoids | (-ve) | Not detected |
| 5. | Steroids | (+ve) | Highly present |
1.4 Result of Microbial Analysis of Rosemary Hydrosol
| | | |
| --- | --- | --- |
| Microbial | Specifications | Results |
| Aerobic Mesophilic Bacterial Count | <1000 CFU/g | Conforms |
| Yeast and Mold | < 100 CFU/g | Conforms |
Description
Appearance- The rosemary hydrosol/herb water is a liquid form similar to water. That is the reason it is water soluble.
Colour- The rosemary hydrosol/herbal water is clear colorless liquid.
Odour- The odour of a rosemary hydrosol is derived from the leaves & flowering top. The odour of rosemary hydrosol is fresh, smooth, woody herbaceous odour very similar to the original fresh herb aroma. However the odour changes from season to season with variation in its volatile compounds due to various factors like - temperature, rainfall, soil health etc.
Solubility- It is soluble in water and alcohol but insoluble in fats/oils.
pH- A pH of 7 is neutral, above 7 the pH is alkaline and below 7 the pH is acidic.
Specific Gravity- is used to define the weight of a liquid as compared to density at a specific temperature. If the specific gravity for a rose water sample is less than 1, that means the material will flow in the reference substances, and if the water sample is more than 1, that means the material will sink in the reference substances.
Heavy Metals- this test is done to check for irregular levels of toxic or potentially harmful metals. Heavy Metal Limit test is primarily based on the reaction of metallic impurities with hydrogen sulphide or sodium sulphide in an acidic medium to produce metal sulphide which provides brown coloration.
Microbial Test- is necessary and required by many industries worldwide, where human health is at risk of being adversely affected by disease-causing bacterial & virus, and microbial toxins.
Microbiological analysis of samples is the use of biological, biochemical, molecular or chemical methods for the identification of microorganism in a sample.
Observations of Phytochemical Analysis of Rosemary Hydrosol
1. Alkaloid
Formation of brown reddish precipitate indicates presence of Alkaloids.
2. Flavonoids
Formation of intense yellow color indicates the presence of Flavonoid.
3. Saponins
Formation of foam indicates presence of Saponin.
4. Triterpenoids
There is no formation of reddish brown interference indicating the presence of Triterpenoids.
5. Steroids
Formation of the upper layer turns red sulphuric acid (H2SO4) layer shows yellow with green florence indicates the presence of Steroids.
Conclusion
The physico-chemical component of Rosemary hydrosol may vary depending on a number of conditions including temperature, soil, solar exposure & extraction method. The high concentration of phytochemical components as well as has a high affinity for microbial activity in rosemary. As a result, the hydrosol of this plant may be employed in the skincare, pharmaceutical and health & wellness sector to create the skincare and health and products.
FAQ's
Can floral waters be diffused?
Yes, Aadhunik hydrosols can be used in various skin care, haircare, and health and wellness products. Our steam distilled hydrosol is 100% pure, clean and chemical free.
Is rosemary hydrosol edible?
Yes, rosemary hydrosol made at Aadhunik Ayurveda is edible and free from chemicals and preservatives.