Rice based skin care product manufacturer
Aadhunik Ayurveda has been the most preferred 100% certified organic skin care and hair care product manufacturer in the country because of strict adherence to global standards and real connection with the farming community to source raw material and traditional recipes too. This makes Aadhunik Ayurveda stand unique in the competition of best private label skin care product manufacturers in India and the world. Rice is a staple food and its use in hair care and skin care is deep rooted in Indian beauty tradition. And its popularity as an effective hair and skin revitaliser is growing in abundance and hence rice based products are much in demand by the consumers.
Making of Rice based skin & hair care products
Making of rice products involves a lot of labour because the basic preparation of rice water remains a traditional recipe where usually rice is used in two ways to prepare the solution to use on the skin or hair.
Both fermentation & boiling are time consuming and labour intensive.
Also it is important to ensure the best quality rice to make the product. Hence Aadhunik Ayurveda over the years has developed a good connection with the rice farming community.
Right raw material sourcing of Sugandha and Kasturi Rice
Rice is a stable food for a significant portion of the world's population, and its diverse varieties contribute to the culinary traditions of various cultures. Among the many captivating rice varieties, Sugandha and Kasturi rice stand out due to their exquisite aroma and unique sticky qualities. It is found in himalayan foothills near Rishikesh, Dehradun etc. Aadhunik Ayurveda is the one of the largest cultivators indirectly as it has a strong connection with the farming community growing the two rice varieties in the region. This locally grown rice helps us cut costs on logistics and above all we can easily keep a constant eye on the farmers to ensure it's completely grown the organic way without the use of concern based pesticides.
The Cultivating Aromas
Sugandha and Kasturi rice are renowned for their delightful aroma that elevates the dining experience to a whole new level. Sugandha rice emanates a captivating aroma resembling that of Basmati rice, while Kasturi rice offers a distinct musky fragrance that lingers in the air. These aromatic qualities make them highly sought after by chefs, home, cooks, and rice enthusiasts around the world.
Cultivating Process of Sugandha & Kasturi Rice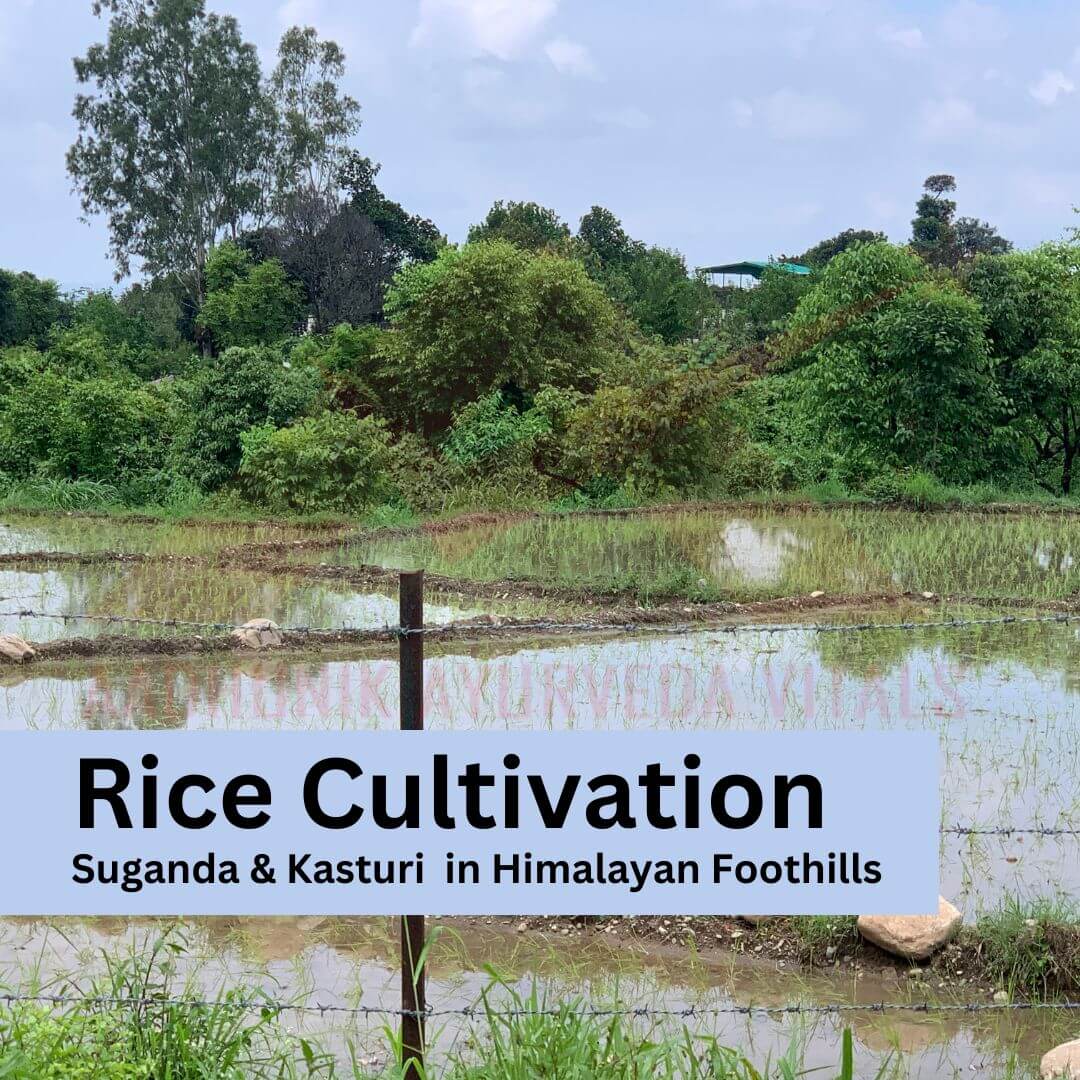 Sugandha Rice:
Sugandha rice is primarily grown in the fertile plains of the Indian subcontinent, particularly in the states of Uttarakhand. The cultivation process begins with careful selection of high-quality seeds, which are sown during the monsoon season. The fields are prepared by ploughing and levelling the soil to ensure proper irrigation.
Kasturi Rice:
Kasturi rice, also known as scented rice, finds its origin in the eastern regions of India including Bihar and West Bengal but is grown here significantly. The cultivation process for kasturi rice is similar to that of Sugandha rice. The seeds are selected with utmost care, and the fields are prepared for optimal growth. Kasturi rice requires sufficient water supply during its growth cycle.
Rise based Skin care products manufacturer
Aadhunik Ayurveda is the best natural skin care products manufacturer for its years of experience in working with traditional ingredients and clinical testing to create a powerful composition. Rise is extensively used in skin care products as it is rich with amylopectin, a water soluble nutrient which has the ability to form a hydrating matrix and other micronutrients like thiamine, niacin, folate, zinc, phosphorus, magnesium and much.
Private label rice based skin care products -
Rice gentle facial cleanser
Rice water facial mist
Rice delay ageing serum
Rice hydrating and moisturising face cream and much more
Rice based hair care products manufacturer
Aadhunik Ayurveda holds years of experience in dealing with natural saponin rich herbs and staple food like fenugreek, lentils, grains etc. which makes it the best certified organic hair care product manufacturer in India exploring its make to different parts of the world. Rice as a hair cleanser is popular with many parts of the world and has deep roots in south India, central India and Bengal. Rice water is a popular hair wash as white sticky rice contains healthy nutrients like amylopectin with saponins that makes it wow for the hair. Rice water provides hair with smoothness, silkiness and pushes hair growth too.
Rice based private label hair care products
Rice water hair shampoo
Rice water hair tonic
Rice water hair conditioner
Customised private label skin & hair care products
Aadhunik Ayurveda works in tune to the needs of the client as per the ingredients desired, texture, aroma, feel, result etc. Hence we understand your need, your vision and accordingly take this forward to give it the shape. From discussing an idea to the final product we work completely keeping your vision in mund to deliver the best. Hence Aadhunik Ayurveda is the best manufacturer to look for private label skin care and hair care products as per your need and budget.
With our years of experience and complete adherence to global standards/ certification, we make and export to all parts of the world with our major exports to the U.S, Australia, Canada, Singapore, Europe, Malaysia, Saudi Arabia and Dubai.
For more specific details, you can get in touch with us at aadhunikayurvedavitals@gmail.com
FAQ
1. Is it possible to get an initial 500 pieces as a sample to understand the response of the consumer and product efficacy?
Yes, we can certainly create a sample MOQ 500 as per your requirement and budget with your choice of ingredients.
2. I am looking for rice based shampoo & conditioner as a combo. Can you white label if you have any such market tested product on our brand name?
Yes, we can certainly do so. For more details please drop an email or contact us on the phone numbers.