Best Pain Relief Oil Manufacturer In India
Pain relief products are highly in demand nowadays. In today's busy world, one hardly gets time to focus on their health and exercise regularly. Due to the changing seasons, people go through many health conditions, and sometimes, many diseases make them suffer a lot. Knee pain, arthritis, joint, and back pain may be very delicate and troubling. So, patients always look forward to authentic remedies which include Ayurvedic products to eliminate these diseases with no side effects.
Keeping this particular rise in demand, Aadhunik Ayurveda has been formulating the best essential pain relief products that have been gripping its existence in many medical institutions. Being the proficient medium of herbal Pain relief Manufacturers, we infuse all the crucial properties of Ayurveda to complement the results with good attributes.
Herbal Pain Relief Oil is an effective remedy to numerous ailments of the body. Our mother nature is full of diverse plants popularly referred to as herbs. Plant based ingredients have various properties that efficiently provide cure to various diseases like muscle pain, headache, back pain, joint pain, etc. These herbs are extracted in the form of oil, gels, lotions, creams, and balm based in order to provide convenience of applying and fast relief from pain. The herbal pain relief products are manufactured using roots, stems, leaves, nuts & seeds of various species of plants.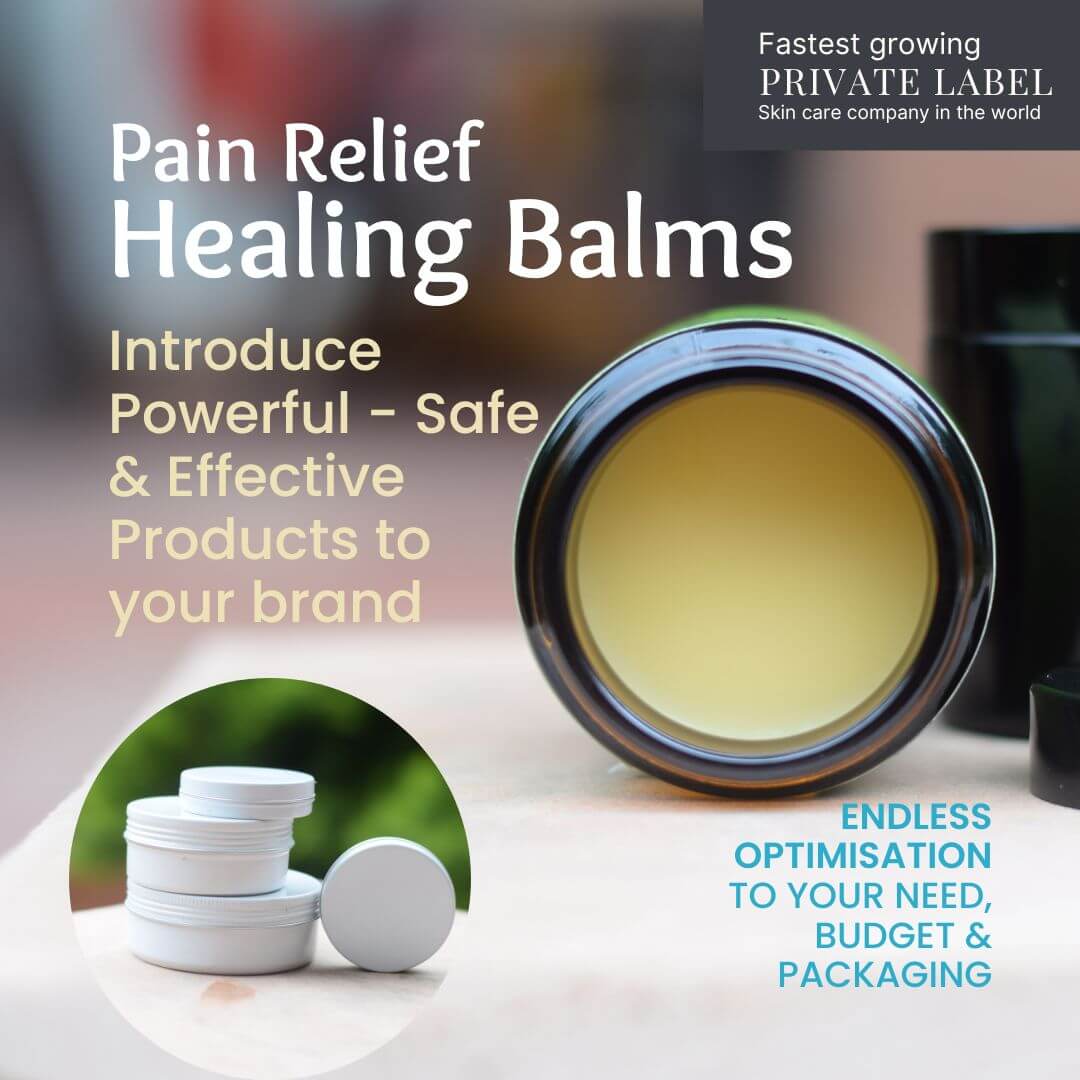 And we at Aadhunik Ayurveda can custom create pain relief in different texture, consistency, ingredients to suit your needs targeting different body pains. For example we can create a tiny roll-on pain relief to use on the forehead. And looking at the target requirement - general use or specific target area, we work with different natural analgesic herbs like eucalyptus, camphor, rosemary, cinnamon, castor, lemongrass, ginger, turmeric, harsinghar, chirayata, karvi etc. Our years of expertise in formulation and product creation have given us a good skill set to create unique required formulations suiting the need and demand patterns.
Best Private Label Pain Relief Products Manufacturers
Aadhunik Ayurveda has curated its name for producing the essential and best Ayurvedic pain relief product in the market. As a private label manufacturing company, we have established our company to involve all kinds of skilled professionals in the whole process. We have been ruling the market due to our organic healthy and effective product ranges and our integral role in improving health conditions.
Private Label Pain Relief Cooling Gel
Private Label Herbal Pain Relief Oil
Private Label Pain relief Balms
Private Label Pain Relief Knee Cream
Private Label Pain Relief Body Massage Oil
Private label ease headache roll-on
Private label quick relief pain roll-on
Depending on the form, texture and consistency needed by the client we make use of natural analgesic herbs to create the best quality effective pain relieving product suiting to your budget.
We have maintained the working abilities of the herbal/ayurvedic research team to hold on the manufacturing techniques with all the details. The brilliant fast-absorption qualities and essential oils are infused by our experts through keep practices. The following oil will target the specific area that needs to be cured, and it is the most efficient base of our service that has made us one of the leading Private Label Manufacturers of Ayurvedic herbal Pain relief oil manufacturers.
Our manufacturing deals come with several volumes and varieties and are suitable for any age group. Our useful and Best Ayurvedic Pain Relief Oil can cure inflammation, and any sort of pain, stiffness, and tenderness can be erased; arthritis and injuries may be eased with all the natural properties of our oils.
Best Pain Relief Oil Supplier & Manufacturers in India
Aadhunik Ayurveda is emerging as the country's most determined Ayurvedic Pain relief Oil Manufacturer & Supplier. Keeping different conditions of the patients, we manufacture products that can soothe all kinds of inflammatory issues. Our formulations are composed of anti-inflammatory and analgesic properties which might be secured through authentic processing herbs of nature.
We are a renowned contract manufacturing company for herbal pain relief oils in India. Our company manufactures Ayurvedic pain relief oils for all types of joint, bone and injuries. Moreover, we manufacture and supply our pain relief oil to different parts of the country.
What makes Aadhunik Ayurveda the leading pain relief oil manufacturers in India?
We at Aadhunik have a strong connection with the farmers to source plant materials like roots, leaves, petals, stems, barks, nuts and seeds to make cold pressed oils, essential oils, hydrosols and powders. That is used for making the best pain relief products. We manufacture pain relief oil that is ideal for use for all types of painful inflammatory conditions. Our pain relief oil is an analgesic and anti-inflammatory formulation oil made using best-grade natural herbs. This oil is prepared by using traditional techniques and has excellent fast-absorption properties. Our ayurvedic pain relief oil gets easily absorbed into your skin and targets the right place.
Watch the connect and making of our essential oils, hydrosols for use in pain relief products.
Aadhunik Ayurveda provides GMP, ISO, FSSAI, and USDA approved healthcare products. We have extensive manufacturing units and hi-tech laboratories to manufacture top-notch quality pain relief oil in India at genuine pricing.
FAQ
Can you make a one in all stress relief and headache relief spray that helps induce sleep as well?
Yes, please drop an email or whatsapp the details and thereafter we can speak and take it forward with best possible - compatible formulation.
I am looking forward to starting a skincare line, please suggest how to proceed?
Its simple as you can always contact us on our email aadhunikayurvedavitals@gmail.com or whatsapp +91-81-71-3076-01. You can always read here to understand what all needs to be kept in view while starting a skin care brand.