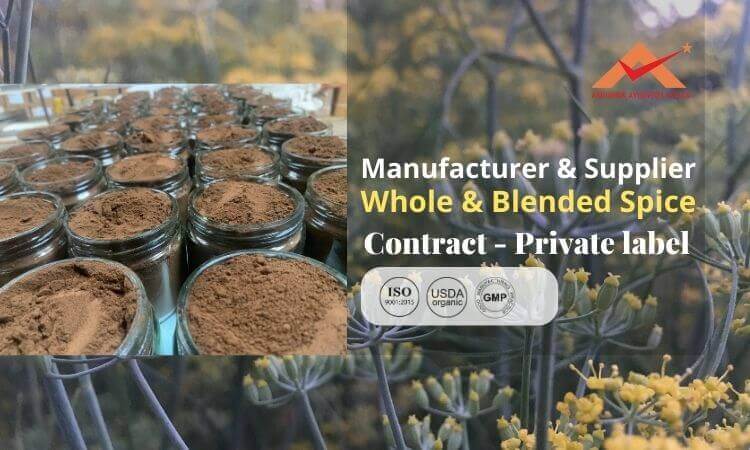 Whole & Blended Spice Manufacturer and supplier in India
Aadhunik Ayurveda is the most authentic supplier of whole and blended spice as Aadhunik keeps a close connect with the farming community from Kashmir to Kanyakumari. This close connection helps source quality spices and create various ready to use whole, coarse and powdered blends for easy use in day to day life. India is a land of spices, and the spice industry has been thriving for centuries. Spices anywhere in the world from a part of its culinary culture and heritage. To keep up with the tradition and provide a distinctive taste to your dishes, Aadhunik Ayurveda offers a wide range of spices just for you.
Aadhunik Ayurveda is the largest leading manufacturer of whole & blended spice in India. Spices blends are created to bring out aroma and flavour to the dishes & beverages that suit your preferences perfectly.
As one of the biggest authentic spice manufacturers in India, Aadhunik offers a range of spice blends that enhance the taste of the dishes. The spice blends are mixed and loaded with essential ingredients to provide a burst of traditional flavours that are sure to satellite your palette. These spices are natural, making them a tastemaker's favourite tool to enhance the culinary experience. The use of authentic spices in the blend in proper measures brings out the taste, texture and colour of your favourite dishes.
Making of Whole Blend Spice at-Aadhunik Ayurveda
At Aadhunik, we understand the importance of high-quality ingredients in your food and we are committed to providing you with the best. For making different whole blend spices, the whole herbs are sourced directly from the best certified farmers cultivating all over India.
We make use of our traditional techniques of coarse and fine powder to create various spice blends like turmeric powder, red chili powder, jeera powder, curry leaf powder, peppermint powder, oregano powder, masala powder and much more. The control over quality is always intact with no chance of adulteration. Hence, the quality ingredients produce a quality, healthy and tasty spice powders. There is no use of any artificial colours, fragrance or preservative in them hence are 100% organic and clean.
Private Label Manufacturer of Whole Blend Spice
Aadhunik Ayurveda is a private-label manufacturer of best quality certified organic whole blend spice in India. We offer a wide range of high-quality spices which include.
Private Label Turmeric Whole Blend Spice
Private Label Red Chilli Whole Blend Spice
Private Label Coriander Whole Blend Spice
Private Label Cinnamon Whole Blend Spice
Private Label Curry Leaf Whole Blend Spice
Private Label Ginger Whole Blend Spice
Private Label Ajwain Whole Blend Spice
Private Label Clove Whole Blend Spice
Private Label Carom Whole Blend Spice
Private Label Black Pepper Whole Blend Spice
Private Label Cumin Whole Blend Spice and much more
Private label body cooler herb blend - rose & vetiver
Private label curd seasoning blend
Private label lemonade seasoning blend and much more
Aadhunik as an esteemed Indian spice blends manufacturer provides options to supply spices in various forms, and in a variety of package sizes. We also provide a number of customized products with specified granulations and blending.
Create Your Own Customized Spices & Blends With Aadhunik Ayurveda Private Labeling Services
We offer private label solutions that provide our customers with exclusive and effective branding of their name to promote customer loyalty and maximizing brand image. Our private labeling services guarantee the highest quality and hygienic products available. By procuring only the finest and freshest spices available, we will carefully handle your product from start to finish and provide you with your own distinct final product.
Our mission is to provide our customers with high-quality custom spice blends made with healthy ingredients and natural whole spices under a sustainable and hygienic environment. We are one of the major providers of custom blends for wholesalers and suppliers.
With a combination of traditional and modern technology for custom blending of spices, Aadhunik maintains the natural essence of spices and keeps the quality and flavour top notch. You can trust us for our exceptionally sophisticated blending solutions and packaging lines.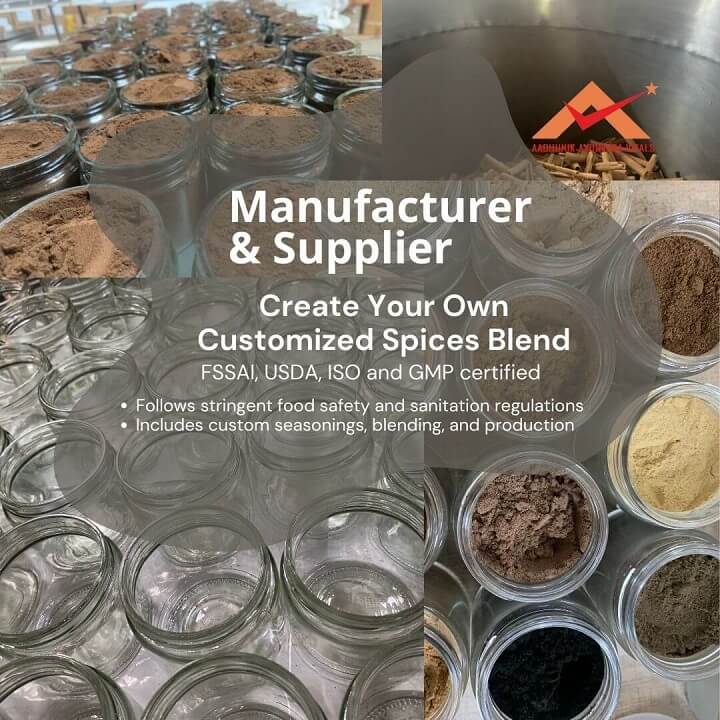 Why To Choose Aadhunik Ayurveda For Custom Whole & Blend Spice Manufacturer?
Aadhunik Ayurveda is one of the leading custom spice blend manufacturers, that specializes in creating customized spice blends, which can also be manufactured as per the needs of our clients. They are made with no-added preservatives or unhealthy ingredients. In fact, they are blended with fresh and high-quality spices.
Our team of experts and the first-rate manufacturing knowledge and all necessary certifications for being the most reliable whole blend spice manufacturer in India. Our quality control team ensures food safety standards are maintained throughout all processes.
Our Speciality
Aadhunik Ayurveda offers several advantages-
Provides high-quality, fresh products
Follows stringent food safety and sanitation regulations
Includes custom seasonings, blending, and production
Increased production, quality control, and consistency
Includes customized labels and packaging for retail applications
Simple and transparent working
Fully developed in-house manufacturing and laboratory unit
FSSAI, USDA, ISO and GMP certified