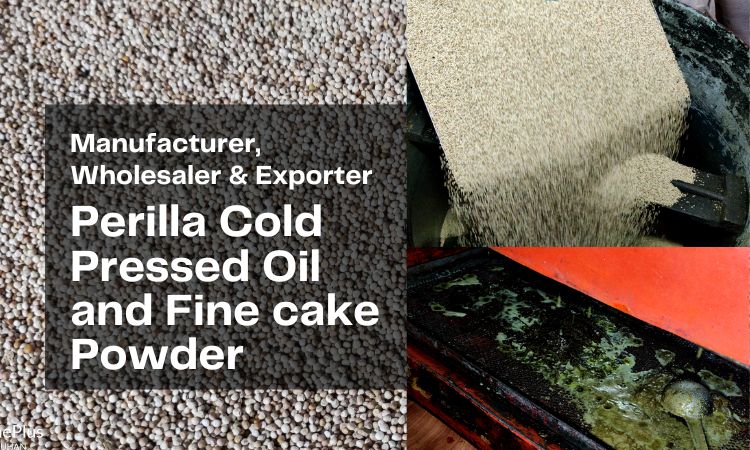 Manufacturer of Perilla Oil and Cake Powder in India
Aadhunik Ayurveda is the best producer/manufacturer & exporter of Perilla Seed Oil in India. This Perilla seed oil is obtained from the traditional method of Cold-pressing. The Perilla seed we used to make cold-pressed oil is directly sourced from farmers from different regions of Uttarakhand. This Linoleic rich seed oil is a great performer, with anti-bacterial & anti-inflammatory benefits it appeals to all skin types from anti-aging through to sun-damaged skin. This oil absorbs splendidly into both the skin & hair without leaving a greasy feel.
With high antioxidant contents, the oil is full of flavones which aid in preventing those free radicals and reducing the rate of ageing.
Manufacturer of Parilla Cake Powder
Aadhunik Ayurveda is one of the best and main producers and suppliers of Perilla seed oil cake and it's fine powder in India. Our Perilla seed cake powder is made from cold-pressed perilla cake that is produced as a by-product of perilla oil making. This Perilla seed oil cake powder is extracted by cold-pressed method with various biological properties such as antioxidant and antiviral effects.
Aadhunik Perilla seed cake powder has a deep earthy taste with a touch of minty, herbal flavor. Made from whole Perilla seed. This Perilla seed cake powder is used in plant-based formulations, dairy alternatives, and as a health-forward, plant-based nutritional supplement.
You can buy the best quality Perilla Seed powder and other powder in different packages as per your need at the best prices from Aadhunik Ayurveda Vitals.
Benefits of Perilla Seed Oil and Powder
Perilla oil is used in the treatment of asthma.
This oil is good for calming the skin, and a regular application is good for dry skin.
Parilla is rich in omega-3 and provides powerful antioxidant protection for mature and aging skin.
Perilla oil is an excellent treatment for scalp itching. It activates the hair follicles by penetrating deep into the roots.
It gives relief from conditions such as sunstroke and nausea.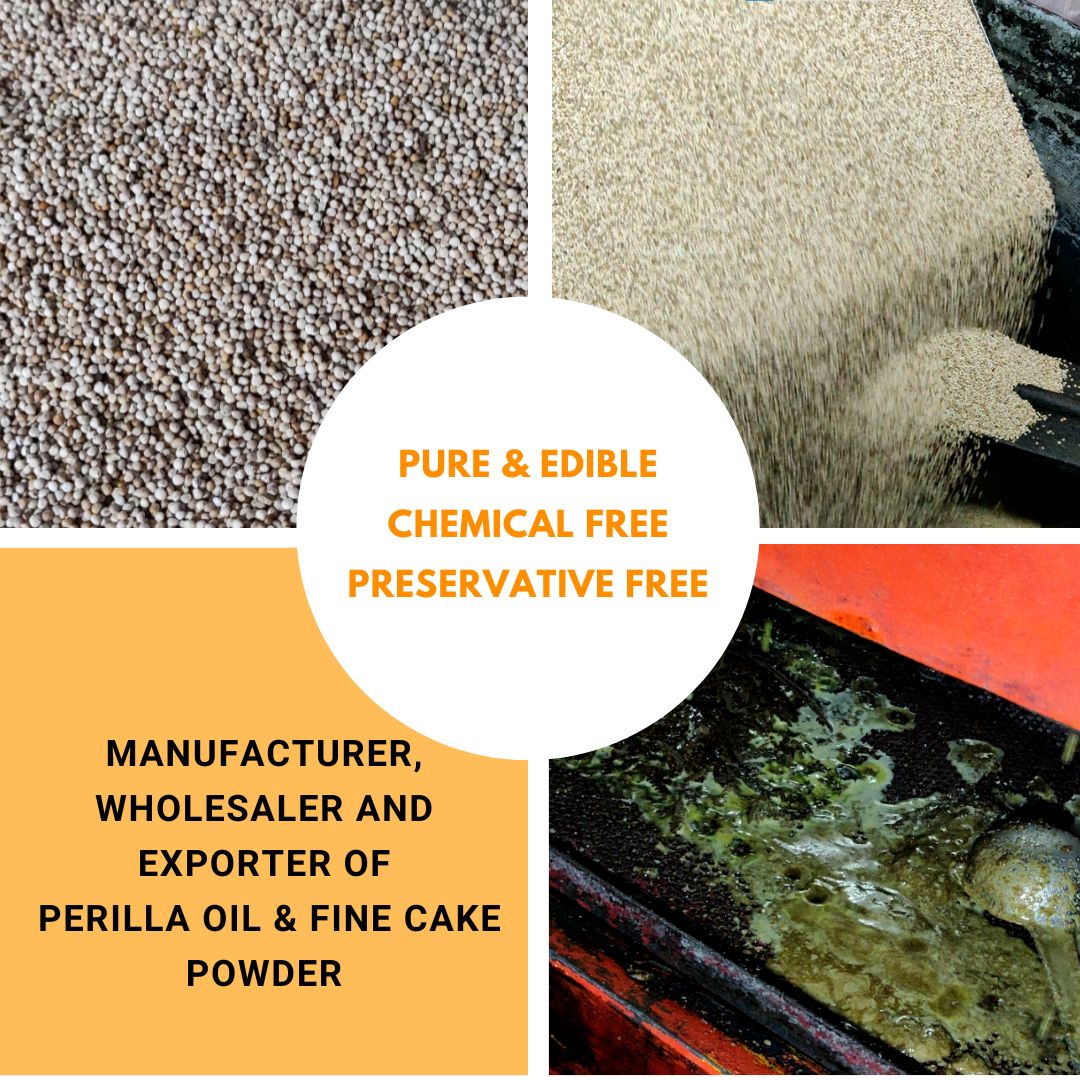 Manufacturers, Supplier, and Wholesaler of Perilla Cake Powder and Oil in India
Aadhunik Ayurveda is one of the best and only manufacturers, wholesalers, and exporters of the best Perilla Oil and Cake Powder in India.
Our cold-pressed Perilla Seed Oil and Powder are pure, clean, and free of all chemicals, additives, or fillers. The oil does not contain any synthetic fragrances or preservatives. Therefore, the product retains its nutritional value. The fragrance and colour are derived only from the plant ingredient.
We provide the best Cold-pressed oil, Powders, and other carrier oil at bulk prices & export them to other countries around the world. To ensure the quality, the seeds are sourced directly from the farmers and cleaned at our cold-pressed unit before pressing the seed for the oil.
We export our high-quality cold-pressed oil, herbal powders, and essential oil to different countries worldwide. With our commitment to client satisfaction, we go beyond conventional boundaries to provide natural products to our customers.
You can order edible perilla cold-pressed oil and many more cold pressed oils and powder in bulk in different quantities from Aadhunik Ayurveda.
Private Label Perilla Seed Products For Hair, Skin, and Wellness
Private Label Edible Perilla cold-pressed oil and cake powder.
Private Label Perilla Protein Supplement.
Private Label Perilla Scalp treatment hair tonic
Private Label Perilla anti-aging face oil and much more
With Aadhunik, you get the chance to explore organic certified products in their true form with just no use of any chemicals at all. Get high-quality custom formulation for your start-up/established brand with the best price at low MOQs at Aadhunik Ayurveda Vitals.
FAQ
Which brand is the best Manufacturer of Cold-pressed Perilla Oil?
Aadhunik Ayurveda is the top leading manufacturer of edible cold-pressed oil in India. They make use of traditional cold-pressed techniques to produce clean and pure chemical-free cold-pressed oil. The seeds are directly sourced from farmers.
Can I buy Perilla Seed Cake Powder in Bulk?
Yes, you can purchase Perilla cake powder in bulk quantity in different packages as per your requirement from Aadhunik.