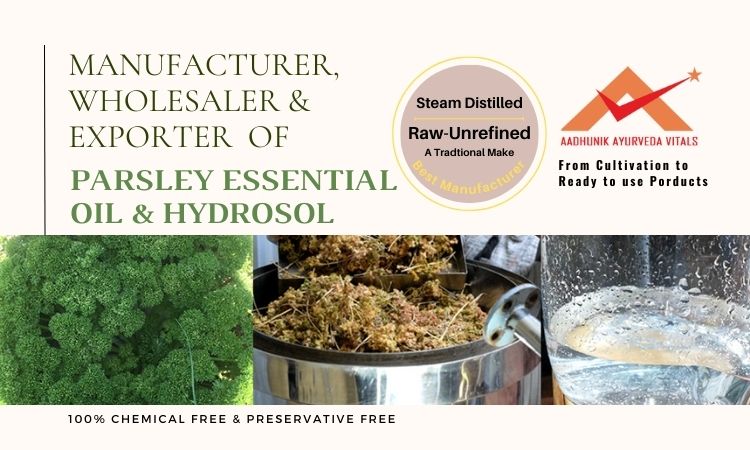 Best Parsley Hydrosol Manufacturer, Supplier & Trader in India
Aadhunik Ayurveda is the one and only manufacturer of Parsley Hydrosol in India. Parsley is an herb that is local to Asia as well as the Mediterranean region. To obtain the floral water of this herb, its flowers as well seeds are extracted through the procedure of steam-distillation. The resultant is a clean liquid with herbaceous green like fragrance. This miraculous herb is blessed with different antibacterial properties and has solutions for various health-related problems that are faced by many people and is even beneficial for the skin. Not only that, the parsley floral water is likewise rich in flavonoids, therefore It's far from a remarkable antioxidant.
Parsley hydrosol also has great antibacterial properties that make the product beneficial for insect bites and stings, as well as open sores and wounds. In addition to this, no additives or harmful chemicals are used in the processing of the hydrosol.The hydrosol is soluble in oils as well as alcohol but insoluble in water.
Benefits of Parsley Hydrosol
The floral water improves digestion and can be used to fight cancer.
Parsley floral water is a good source of antioxidants and is rich in flavonoid.
It acts as a natural diuretic and also offers relief in bloating problems.
Parsley water also balances and eases the mental tension.
It also has properties of being an excellent de-toxifier. It enables in eliminating the harmful toxins from the epithelial skin tissues.
Infection caused by the various harmful bacterias also can be taken care of with parsely hydrosol.
Manufacturer, Supplier, and Exporter of Parsley Hydrosol
At Aadhunik Ayurveda, we manufacture, export and supply 100% pure Parsley Floral Water/Hydrosol in India and world wide. Our hydrosol is steam-distilled & edible and can be used for multiple purposes.
Over the years, we have acquired immense experience in delivering a premium range of floral/herbal water/ark, it comes with great curing and healing properties. The unique flavour and sweet aroma make them a great enhancing agent in the confectionery industry. Our team of experts works as per the set global industry quality standards to deliver one of the finest 100% pure natural essential oil, hydrosol, carrier oils and many more. Our distillation method makes us stand out in the competition as it facilitates in delivering outstanding purity of the floral water.
Buy online bulk premium quality floral water/hydrosol from Aadhunik Ayurveda India that is known for its valuable health and beauty benefits.
Private Label Parsley Product for Beauty & Health
Aadhunik Ayurveda offers organic Private Label Parsley based products for beauty & wellness.
Private Label edible Parsley Hydrosol/ark
Private Label Parsley hydrating face toner
Private Label Parsley wellness drinks
Private Label Parsley aroma diffuser oil
Private Label body massage oil
Private Label hair tonic for healthy hair
Private Label Parsley essential oil and much more.

Aadhunik is the leading manufacturer & producer of skincare, haircare, and wellness products in India. We also give contract manufacturer services to our customers.
FAQ
Who is the best producer of edible Hydrosol in India?
Aadhunik Ayurveda is the one and only manufacturer who uses the traditional method of steam-distillation to produce 100% natural & chemical free floral/herbal water/hydrosol in India. We also provide our hydrosol in bulk packaging in different sizes as per your need. You can buy different kinds of hydrodol like Lavender, Basil, Turmeric, Rose and much more from Aadhunik Ayurveda Vitals.
Are there any preservatives in this Hydrosol?
No, the product is 100% free from preservatives and chemicals. The unique make makes it such that it does not need preservatives and stays good for more than a year.