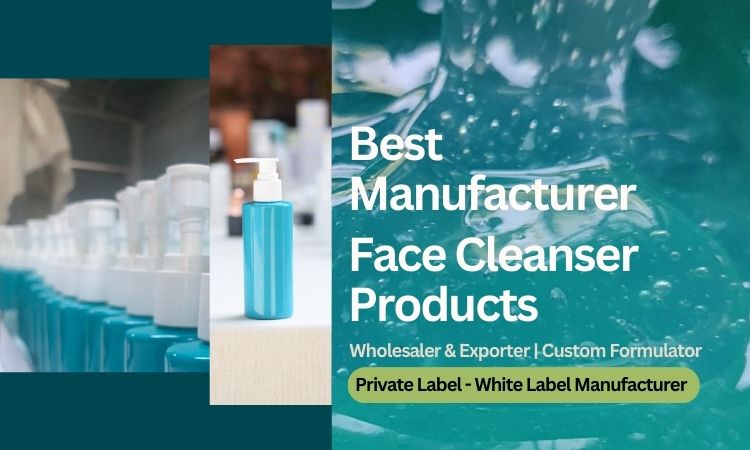 Manufacturer of Face Cleanser Products
Aadhunik Ayurveda is the top leading manufacturer, exporter and wholesaler of face cleansers products. The products have multiple ranges of organic & certified natural blends to work effectively on different age groups, people and skin types.
A face cleanser is the cornerstone of everybody's skincare routine regardless of what their skin type is. It not only gives you squeaky clean skin but also contributes to its overall health, owing to its combination of ingredients and activities. However, a deeply cleansed skin can come at a price. The added fragrances, harmful toxins and harsh chemicals can rather damage the skin, impacting its look and quality. And this is where a natural face cleanser wash comes into play.
We at Aadhunik goes steps ahead of other producer/manufacturers and discovered various time-tested plant derived face cleansers products to bring real, poteny yet healthy formulation to various brands' product line, selling their product in India and globally. Our real deep rooted connection to farmers and know-how of the conventional methods has given a top side to do what other manufacturers couldn't.
Making of Face Cleansers at Aadhunik Ayurveda
Making high-quality face cleansers products like real soaps or say saponified oils- soap bars (aloe vera, saffron, shea butter, olive oil, goat milk, vegan etc.), liquid gel based cleansers, cream based buttery cleansers, oil based cleansers for face & for body and much more suiting to your need and budget can be created with clean ingredients without the use of harmful chemicals. The raw herbs, nuts and seeds are processed using traditional techniques to ensure their nutritional value stays intact.
The ingredients used in cleansers are in the form of powder, cold-pressed oil, essential oil, butters, gel etc. are all prepared at Aadhunik Ayurveda. We have well-equipped state-of-the art manufacturing unit infrastructure under strict GMP, USDA & ISO guidelines, which consists of a well-designed hygienic plant, in-house laboratory facility, R & D research & development lab with traditional techniques and eco-friendly work environment and qualified people. We make sure no adulterated & quality ingredients are used in preparing the cleansers.
Best manufacturer of Face Cleanser
Aadhunik Ayurveda is a prominent manufacturer of different kinds of Face Cleansers and other products. Our Clean beauty contemporary creations are rooted in nature with plant-derived raw materials. We believe that the first step of healthy skin is to deeply cleanse the skin so as to remove all the dirt and pollution accumulated in its pores. Our selection of Ayurvedic facial care products includes face cleansers that are food for the skin. These are formulated with organic ingredients such as herbs, nuts, and seeds which gently yet deeply cleanse the skin. We formulate face cleansers products keeping in mind the need of the skin type and age groups and other factors. Every product is made with utmost love and care and tested for stability and performance as a part of product development.
Private Label Manufacturer of Face Cleanser
Aadhunik Ayurveda is the fastest growing <>private label manufacturer of face cleanser and other products in India. There are huge varieties of face cleansers that you can Private label- on your brand name. These private label face cleansers include
Deeply hydrating and exfoliating face cleansers
Apricot & Walnut Face cleanser for dull skin
Charcoal face cleanser
Sandalwood, kesar and Turmeric face cleanser for glowing skin
Neem & Tulsi Face Cleanser for acne-prone skin
Coffee Deep exfoliating Face Cleanser
Skin illuminating face cleanser and much more
Wide Range Of Face Cleanser Manufacturer
With years of experience and hence we deliver the products as per the texture, aroma, viscosity and function.
Gel based face cleansers
Powder based face cleansers
Cream based face cleansers
Soap Bar - Soaponified oil/Real Soap
Why Aadhunik Ayurveda is the top manufacturer of skin care, personal care, and wellness products.
Budget friendly
Low MOQ
In-house manufacturing line
Certification
World class facility
Labelling & designing assistance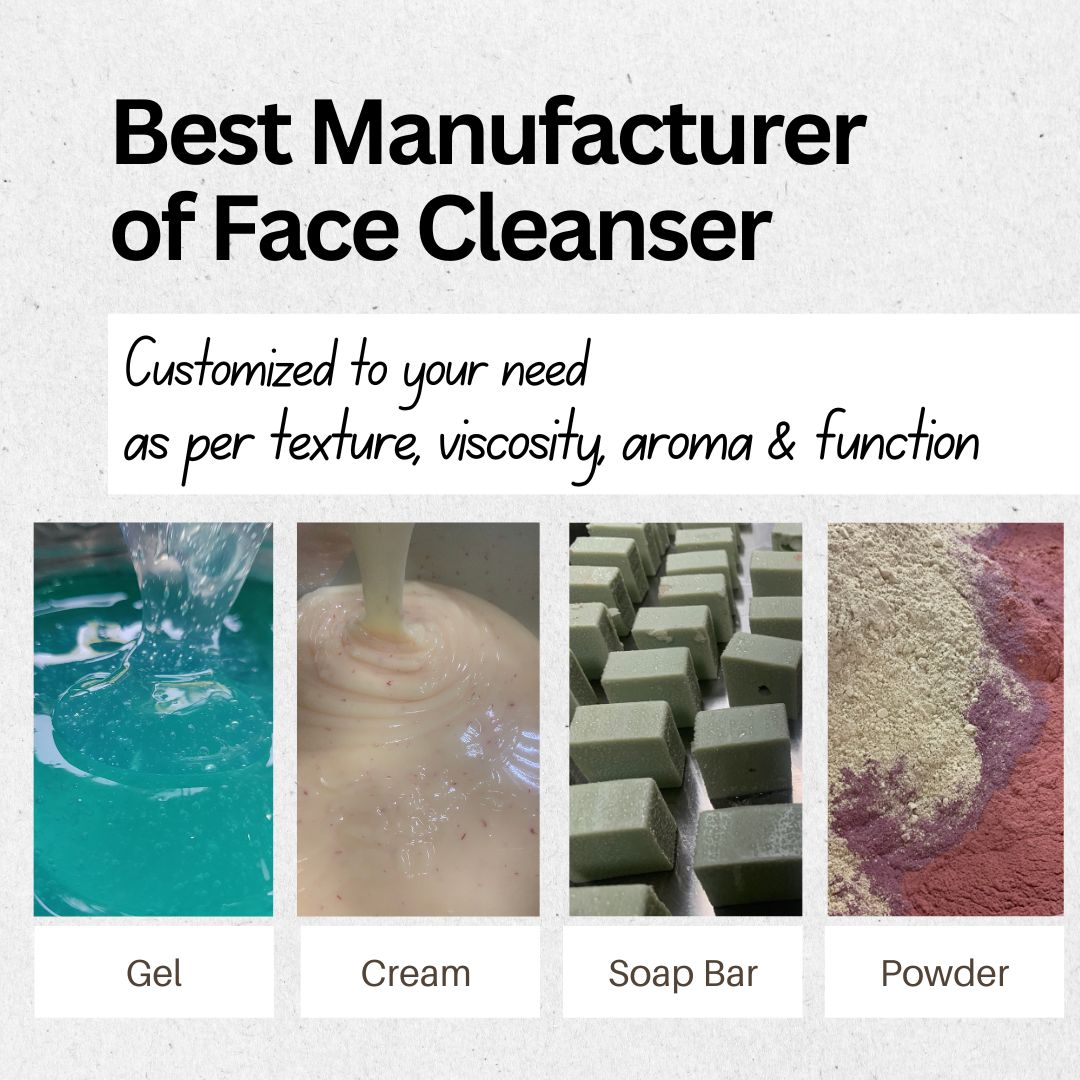 FAQ
Which is the best affordable wholesale private label face cleanser manufacturer in India?
Aadhunik Ayurveda gives opporunity to pick out from more than 50 varieties of herbal face cleansers which could be blended to your taste, budget and other requirements to make a rich quality best private label herbal facial cleanser.