Best Eucalyptus Essential Oil and Hydrosol Manufacturer in India
Essential oil and hydrosol/herb water are made from the leaves of the Eucalyptus trees. Eucalyptus oil has been used due to its medicinal properties for centuries. It is also known as Nilgiri Oil. Most of the oil is extracted from the leaves of this tree. A process known as steam distillation is used to extract the oil & water after crushing the dried leaves. Aadhunik Ayurveda Eucalyptus essential oil and hydrosol is a concentrated oil, you must dilute them before applying them to your skin.
Natural Eucalyptus Oil can prove to be more beneficial for treating congestion, cold and cough, asthma, and other conditions. Just inhaling Eucalyptus essential oil promotes overall well-being and energy. Rejuvenate your body by adding this oil to your bath oils and bathtubs. The antiseptic properties of eucalyptus essential oil and water allow you to use it to disinfect open wounds and scrapes. For faster relief, you can combine it with olive oil.
Organic Eucalyptus essential oil and herb water reacts with mucus and loosens it to provide instant relief from the shortage of breath and other respiratory issues. It is powerful enough to work as an insect repellent. When used in aromatherapy, it provides clarity of thought. Its healing benefits are due to its antimicrobial, antibacterial, antiseptic, antispasmodic, and antiviral residences. Use eucalyptus oil against a variety of skin and health conditions, it contains eucalyptol which is also referred to as cineole. This compound will help your overall health and wellness.
The antibacterial properties of pure eucalyptus essential oil and water make it an effective disinfectant that can be used to disinfect and clean surfaces. It is used in gels, pills, beverages, tablets, fragrances, the cosmetic industry, aromatherapy, healing balms and many more. The stimulating and soothing properties of Eucalyptus make it an ideal ingredient for inhalers, balms, and massage blends.
Benefits of Edible Eucalyptus Essential Oil and Edible Water
Eucalyptus oil may also assist in the treatment of diabetes. Diabetic patients are very much benefited from eucalyptus usage.
Massaging with eucalyptus oil to the body increases blood circulation which relaxes your body and fights tiredness. It heals your mind and controls all possible complications.
The aroma of eucalyptus calms the body and promotes relaxation.
Herb water of eucalyptus may help relieve cold and cough. It can decrease mucus build-up and provide relief from inflammation.
Eucalyptus essential oil helps to tone the skin and reduces inflammation and redness caused by acne & pimples.
It treats bacterial infections on the skin and boosts mental clarity and energy in the body.
Manufacturer, Exporter, & Wholesaler of Eucalyptus Hydrosol & Essential Oil
Aadhunik Ayurveda is the leading Eucalyptus Essential Oil and eucalyptus hydrosol-Water manufacturer, wholesaler, and exporter all over the world. The essential oil and hydrosol of eucalyptus are obtained from the traditional technique of steam distillation. Aadhunik offers the purest form of essential oil and hydrosol to the customer. It has extreme shelf life stability and doesn't contain any type of chemical, fragrance, and preservative.
We are one of the largest manufacturers, exporters, wholesalers, and suppliers of top-quality Eucalyptus herb water & essential oil in India and other different countries all over the world. Our products follow high-quality standards. Buy eucalyptus oil and water from Aadhunik Ayurveda according to your requirement at the best competitive prices.
We also deliver products throughout the world using our logistic partners Blue Dart, DHL, etc. Do not miss this excellent opportunity to buy chemical-free multi-purpose, and fresh Eucalyptus essential oil and Hydrosol from Aadhunik Ayurveda.
The 100% chemical-free oil is a pure treat for the human body hence avail the opportunity to sell the best product on your brand name to make your consumer come back for more.
Private Label Eucalyptus Skincare, & Wellness Products
Aadhunik Ayurveda Vitals offers organic & natural Private Label Eucalyptus-based Products for Skin, hair, health & wellness. They are versatile as they work for various problems.
Private Label Natural Derived Eucalyptus Essential oil and Hydrosol.
Private Label Eucalyptus Herbal Tea.
Private Label (hand-made) Eucalyptus and Neem Bar Soap.
Private Label Eucalyptus & eucalyptus Body Wash.
Eucalyptus face scrub for soft and clear skin.
Eucalyptus Body & Hair Massage Oil.
Private label congestion relief healing balm
Private-label aromatherapy diffuser oil
Private-label pain relief oil
Private-label hair fall control oil
Best Globally Known Manufacturer
Aadhunik Ayurveda is certified skincare, haircare, essential oil, hydrosol, massage oil, body polisher, body butter, and health wellness products manufacturing company in India. Our working transparency and well timed delivery with time-to-time compliances and certifications make us a preferred choice amongst many brands and global certifications like ISO, USDA, and so forth have helped us stick with first-class processing and global standards.
We have the best (in-house) 100% natural and chemical-free manufacturing line. This is viable truly due to the fact that for everything the brand is completely included forward to backward keeping a close connection for raw material sourced from farmers to right minimal processing to retain nutritional compounds to the apt composition of the products making it healthy, potent, and effective.
With us get the best quality custom formulation, private label, and raw material for your start-up established brand at the best prices, complete assistance, and low MOQs.
Physico-chemical Study and Phytochemical Screening & Microbial Analysis of Eucalyptus Leaves Hydrosol
Abstract: Eucalyptus has been used as a medicinal plant from age because of its various properties. The aim of the present study was to validate the therapeutic properties of Eucalyptus hydrosol to determine the physico-chemical and phytochemical composition content of Eucalyptus hydrosol.
Introduction
Eucalyptus is the evergreen tree, or bush, belonging to the Myrtaceae family. Although it is native to Australia and Tasmania, nowadays it has rapidly spread to other countries including India.
Eucalyptus species are remarkable for their rapid growth. Some species of them, in their natural habitat, attain gigantic sizes and are among the tallest trees in the world. The majority of the species are commonly known as "gum trees." Eucalyptus globulus has long been used for its numerous medicinal properties. Many studies have been carried out to extract various natural products for phytochemical screening microbial activity. One of these medicinal plants, many species of the genus Eucalyptus from the Myrtaceae family are used in many parts of the world for the treatment of a wide variety of diseases including microbial infections.
Eucalyptus leaf heb water/hydrosol have been approved to use in cosmetic formulations. Saponins, tannins, steroids and flavonoids have been found in the leaf extract of eucalyptus.
Eucalyptus leaves have long been used to treat fungal infections and wounds. Eucalyptus leaves show many activities such as antioxidants, antiseptic and anti-inflammatory.
The present work evaluates the aromatic waters/ hydrosol of eucalyptus obtained as innovative commercial products of a steam distillation process.
The following tables provide information on the most commonly tested physico-chemical and phytochemical parameters, and Microbiological analysis in eucalyptus Hydrosol.
| | |
| --- | --- |
| Product Name | Eucalyptus Hydrosol/ Herb Water |
| Botanical Name | Eucalyptus globulus |
| Manufacturing Process | Steam distillation only |
| Part Used | Leaves & Twigs |
| Produce | 100% chemical & preservative free |
| Usage | Cosmetic, Skincare, Health & Wellness, Aromatherapy |
| Cultivation | Parts of North India |
Experiment
This analysis is done to analyse the physicochemical, heavy metals, phytochemical and microbial test activity of Eucalyptus Hydrosol.
1.1 Physico-chemical Analysis
Various physico-chemical parameters of Eucalyptus hydrosol were analysed which were important for production of value added products.
Result of physicochemical attributes of analysis in a sample of Eucalyptus Hydrosol
| | | |
| --- | --- | --- |
| Properties | Specifications | Results |
| Physical Appearance | Transparent liquid, like water | Conforms |
| Colour | Clear, colourless to slightly cloudy liquid | Conforms |
| Odour | Softly camphoraceous, cooling aroma with green undertones | Conforms |
| Solubility | Soluble in water & alcohol insoluble in fixed oils | Conforms |
| pH(25°) | 4.0-7.0 | 4.3 |
| Refractive Index | 1.440-1.480@20° | 1.461 |
| Specific Gravity 9g/ml) | 0.898-0.920@25° | 0.9074 |
1.2 Total Presents of Components
| | | |
| --- | --- | --- |
| Components | Range % | % |
| Eucalyptol (1,8-cincole) | - | 79.33 |
| Para-Cymene | - | 3.54 |
1.3 Heavy Metals Test Result
| | | |
| --- | --- | --- |
| Heavy Metal Test | Specification (%) | Result(%) |
| Total Heavy Metals | NA | Not detected |
| Arsenic (As) | NA | Not detected |
| Lead (pb) | NA | Not detected |
| Mercury (Hg) | NA | Not detected |
| Cadmium (Cd) | NA | Not detected |
1.4 Result of Phytochemical Analysis of Eucalyptus Hydrosol
The following result were obtained after performing the phytochemical test:
This method involves the selective and successive extraction of the plant phytochemical. The analysis of the presence of the main group of natural constituents present in the plant extract was done using different specific reagents. Chemical tests were done to identify bioactive compounds of pharmacological importance through standard methods. Phytochemicals such as tannins, alkaloids, saponins, flavonoids, terpenoids, phenols, etc. were qualitatively determined.
| | | | |
| --- | --- | --- | --- |
| S.No. | Phytochemical Tests | Eucalyptus Hydrosol Specification | Results |
| 1. | Saponin | (+ve) | Highly present |
| 2 | Carbohydrates | (-ve) | Not present |
| 3 | Tannin | (+/-ve) | Slightly present |
| 4 | Flavonoid | (+ve) | Highly present |
| 5 | Quinone | (+ve) | Highly present |
1.5 Result of Microbial Analysis of Eucalyptus Hydrosol
| | | |
| --- | --- | --- |
| Microbial | Specification | Results |
| Aerobic Mesophilic Bacterial Count | <100 CFU/g | Conforms |
| Yeast and Mould | <10 CFU/g | Conforms |
Description
Appearance- The Eucalyptus hydrosol/herbal water is a liquid form similar to water. That is the reason it is soluble in water.
Colour- The eucalyptus hydrosol is a clean, clear, colourless to slightly cloudy liquid.
Odour- The odour of a eucalyptus hydrosol is derived from the leaves of a eucalyptus plant. The odour of eucalyptus hydrosol is softly camphoraceous, cooling aroma with green undertones. However the aroma changes from season to season with variety in its volatile compounds due to different factors like - temperature, rainfall, soil health etc.
Solubility- It is soluble in water and alcohol but insoluble in fixed oils.
pH- A pH of 7 is neutral, above 7 the pH is alkaline and below 7 the pH is acidic.
Specific Gravity- is used to define the weight of a liquid as compared to density at a specific temperature. If the specific gravity for a eucalyptus hydrosol sample is less than 1, that means the material will flow in the reference substances, and if the water sample is more than 1, that means the material will sink in the reference material.
Heavy Metals- this test is done to check for irregular levels of toxic or potentially harmful metals. Heavy Metal Limit test is primarily based on the reaction of metallic impurities with hydrogen sulphide or sodium sulphide in an acidic medium to produce metal sulphide which provides brown coloration.
Microbial Test- is necessary and required by many industries worldwide, where human health is at risk of being adversely affected by disease-causing bacterial & virus, and microbial toxins.
Microbiological analysis of a sample is the use of biological, biochemical, molecular or chemical methods for the identification of microorganisms in a sample.
Observations of Phytochemical Tests for Eucalyptus
1. Saponins
A stable foam formation is present, which shows the presence of saponin.
2. Carbohydrates
There is no formation of brown rings on the side of test tube walls, which clearly indicates there is no presence of carbohydrates.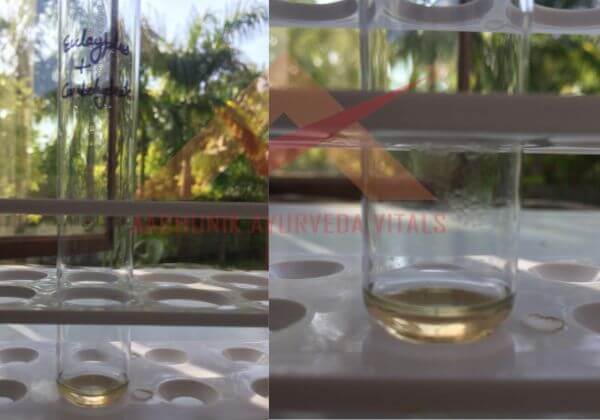 3. Tannin
Slightly green coloration was observed, which shows the presence of tannins.
4. Flavonoids
Reddish colour was observed, which is an indication of presence of flavonoid.
5. Quinone
There is formation of red colour, which is an indication of presence of quinone.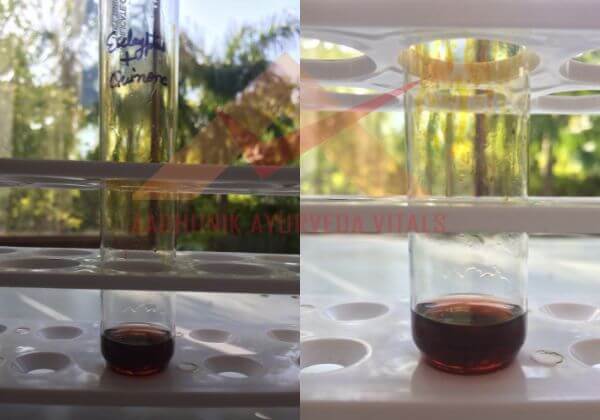 Conclusion
Medicinal plants are useful and economically essential. Eucalyptus is a plant of medicinal importance and used worldwide due to its activity against microorganism and fungus.
A qualitative phytochemical analysis of the eucalyptus hydrosol was done, which showed the presence of saponins, quinone, tannin, flavonoid and absence of carbohydrates.
The presence of these components in this species is an indication that it may have some medicinal potential and therefore have been in use in traditional medicine.
FAQ
Whom to contact to understand more about private labeling?
Please drop an email to us or call on the number provided in the footer of the website. We shall reply immediately.
Would you help us in labeling as per law?
Yes, we help you and guide you through complete labeling law requirements so as to fulfill adhering to all government departments including exporting countries.