Manufacturer, wholesaler and exporter Cold-Pressed Grapeseed Oil in India
Grape seed oil is extracted from grape seed. It is rich in omega-6 fatty acids, linoleic acid, and vitamin E which can provide several health benefits. It contains many therapeutic benefits owing to its antibacterial, antimicrobial, and anti-inflammatory properties. Due to its medicinal benefits, you can incorporate it into making perfumery, soaps scented candles, or you can additionally use organic grapeseed essential oil for aromatherapy.
Regular use of grapeseed essential oil for skin purposes has been shown to slow down the ageing process in several studies. Manufacturers of skin care & hair care applications have started using it widely in their products.
Aadhunik Ayurveda is providing pure and natural grapeseed oil that is ideal for improving the health of your skin and hair. Incorporating grapeseed oil into your skincare routine will provide a smooth, soft, and blemish-free complexion to your skin. Our natural & organic grapeseed oil also protects your skin from environmental pollutants.
Manufacturer of Cold-Pressed Grapeseed Oil
Aadhunik Ayurveda is the leading manufacturer of Grapeseed oil in India. We make use of our best traditional technique of cold-pressing the seed. It is the best technique where the grapeseed is pressed between the two heavy metal rods and oil is released 100% pure, organic, and chemical free. This helps preserve the aroma and nutritional content of the oil.
At Aadhunik we source raw materials directly from farmers from different regions in India.Grape Seeds are sourced from Indian state of Maharashtra.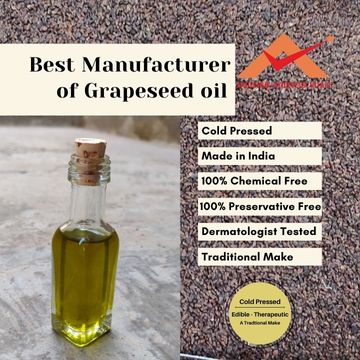 Private Label Cold-Pressed Grapeseed Oil
Aadhunik Ayurveda is one of the leading manufacturers, wholesalers, and suppliers of grapeseed oil. We export grapeseed oil for various purposes including cosmetics and medicinal products.
We have a skilled manufacturing team & state-of-the-art technology to process premium quality Grape Seed Cold-pressed oil without compromising quality. There is a direct connection with various grape vine gardens (vineyards) and villagers for quality raw material leading to no role of middleman and thereby full control on sourcing quality raw material.
Aadhunik Ayurveda is a GMP, ISO, FSSAI, and USDA-certified company in India. So if you want to buy cold-pressed Grapeseed oil directly from the manufacturer at a unique price.
We assure you that all our products adhere to the highest criteria of quality and safety. We offer natural & organic forms of cold-pressed oils to our customers. Our products are free from all synthetic chemicals, additives, & fillers. They also do not carry any artificial colours, fragrances, and preservatives.
Grapeseed oil is cold pressed oil and comes under the category of carrier oil/base oil.
We sell grapeseed oil in bulk quantity with fast delivery and complete customer support. We assure you that you will not regret choosing us!
FAQ
Where to buy grapeseed oil?
Aadhunik Ayurveda is the leading manufacturer & supplier of Grapeseed Oil. It has extreme shelf-life stability.
Can I purchase Grapeseed oil in bulk?
Yes, Aadhunik Ayurveda provides cold-pressed Grapeseed oil in different bulk quantities (packaging suitability) as per your requirements.
Is grapeseed oil good for the skin?
Aadhunik cold-pressed grapeseed oil is high in antioxidants, vitamin E and other nutrients making it healthy for your skin and hair care needs.