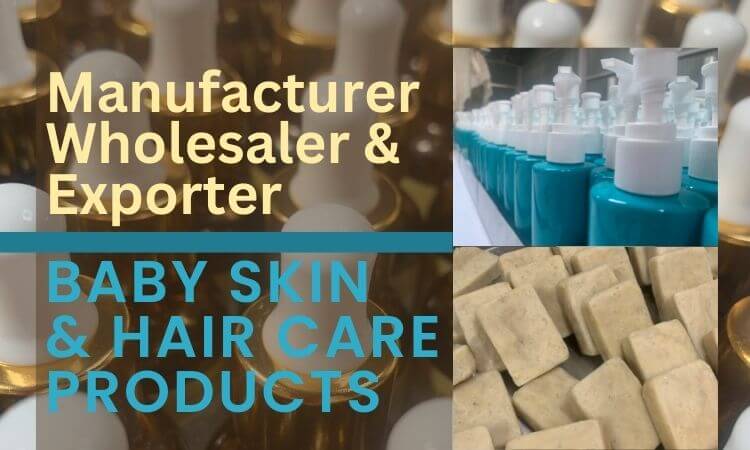 Baby skincare Products Private Label Manufacturer and Suppliers in India
The marketplace for baby care products in India is a good growing marketplace over the last few years. There is consistent growth for those products within the market. The baby care products range consists of many products for skincare, hair care, health & wellness, and many more.
Natural baby skin care products play an important role in their development. Aadhunik Ayurveda is the leading (in-house) manufacturer of natural and organic Baby Care Products in India. Our infant care merchandise is designed to nourish babies' skin and hair with the use of natural ingredients and powerful formulas. We have a stringent set of guidelines that we observe while producing our baby care products for complete delight.
We provide the purest form of baby care products like baby massage oil, baby hair oil, baby eczema & psoriasis cream, baby stable bath soap and many more. There is no artificial fragrances/perfume, or any kind of synthetic used while manufacturing them.
Therefore, we believe that when it comes to perfect pampering, babies deserve nothing but the best. Keeping the same in view, we produce a highly specialised and exclusive range of the following products.
Baby soap/cleanser
Baby moisturiser
Baby cream
Baby massage oil
Baby diaper rash products
Baby eczema products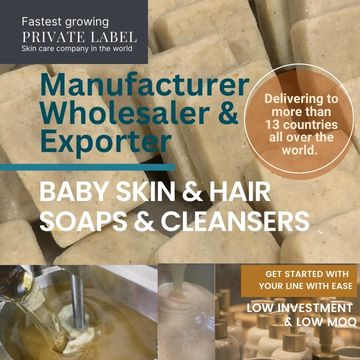 Manufacturer of Baby Soap
Aadhunik Ayurveda is the best (in house) manufacturer of organic baby soap products. We don't use any chemicals as we understand the babies are so sensitive & chemicals can harm them. These products are pure & chemical free. We have the best baby soap that is chemical & toxic free made with natural herbs ingredients. We offer a wide range of baby soap. Making baby soap is a time consuming process as it takes about 8- weeks for soap to finally get ready. The soaps are made with edible cold pressed oils, butters and edible essential oils to deliver uncompromised quality. Explore private label & custom formulated baby cleansers/soap with us.
Private Label Baby Ayurvedic Goat milk soap with Lavender
Private Label Baby Ayurvedic Cold-Pressed herbs infused soap
Private Label Baby Ayurvedic Baby Shower Gel
Manufacturer of Baby Moisturizer
Baby moisturiser/lotions is used to soften & moisten your skin. It's miles used to save you & deal with the dry skin of the baby/toddler. Aadhunik Ayurveda manufactures baby moisturiser, made with cold pressed oils and herbs - ingredients that softens & nourishes the skin of the babies, it keeps in mind that the baby's skin remains healthy. While formulating teh baby soap, it's important to keep the products in check with parameters like pH to ensure gentle and suitable moisturisers and other products are created. Aadhunik Ayurveda offer wide range of ayurvedic moisturiser for baby skin:
Private Label Baby Ayurvedic Dashapushpadi herb lotion
Private Label Baby Ayurvedic after shower oil
Private Label Baby Ayurvedic cold pressed oils
There are many options available and we work as per your vision and budget to deliver the best quality working product.
Manufacturer of Baby Cream
Aadhunik Ayurveda baby cream is enriched with baby loving ayurvedic herbs and it has been developed to match the pH balance of baby skin. Aadhunik baby cream specially developed formulation not only moisturises baby's skin but also preserves its natural softness. It is made using edible ingredients and depending upon the requirement of the brand we emulsify or let it be the original way. Our aim is to stay transparent and cater to different brand needs in terms of texture, viscosity, aroma, ingredients etc. Hence, we offer the wide range of baby cream custom fulated and private label:
Private Label Baby Ayurvedic natural face cream
Private Label Baby Ayurvedic mango and shea butter blend cream
Private Label Baby Ayurvedic shea jojoba & lavender face cream
Manufacturer of Baby Massage Oil
Aadhunik Ayurveda Baby massage oil gently nourishes the dry or tender skin and strengthens the overall health of your baby. Organically prepared with time-tested nuts and seeds to nurture and pave the way for the safety and healthy development of the baby. These oils are absolutely free from inexpensive oils like mineral oil or refined vegetable oils that we usually find in major brands' ingredient list.
Private Label Baby Ayurvedic coconut, jojoba, olive infused massage oil
Private Label Baby Ayurvedic herbs infused massage oil
Private Label Baby Ayurvedic almond massage oil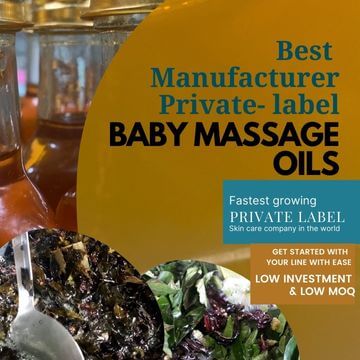 Manufacturer of Baby Diaper Rash Products
Aadhunik Ayurveda baby diaper rash cream to heal, soothe & calm red irritated skin without any chemicals is a super product trending market for years now. The antifungal, healing and anti-inflammatory properties derived from cold-pressed oils/butters, essential oils provide effective and prevent diaper rash. This cream provides a guard against wetness to ensure the baby's bottom is rash- free. We have a wide range of diaper rash cream, balm and many more to suit different brand needs.
Private Label Baby Ayurvedic diaper rash cream with aloe vera
Private Label Baby Ayurvedic natural lavender and chamomile diaper rash balm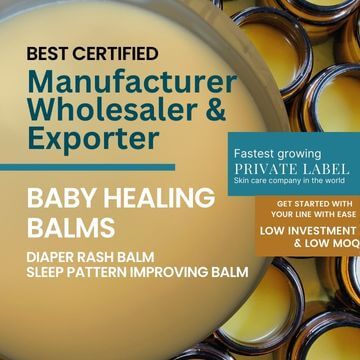 Manufacturer of Eczema Products
Eczema is a skin disorder that causes dryness, redness, itch and much more. Aadhunik Ayurveda eczema treatment products provide gentle and effective care for the skin.
We customise the eczema products depending on the requirement of the product however we use natural ingredients like bakuchi, kalonji, hemp seed,etc. in an acceptable limits to provide a effective natural care.
Private Label Baby Ayurvedic herbs infused, goat milk Eczema/Psoriasis treatment kit
Why Aadhunik Ayurveda
Aadhunik Ayurveda is a well certified, licensed with world class infrastructure and therefore is a known baby skin care and wellness prod manufacturing company acros India and the continents. No one does it the way we at Aadhunik undertake various prct development to final production. We do pay utmost attention to purity, safety and hygiene; that is why we offer the most authentic products. Further, we do use of traditional techniques to manufacture the products and provide the best third-party business opportunity.
Private Labelling Aadhunik Ayurveda is the best private label baby skincare products manufacturer in India. Among the private label product manufacturer companies, Aadhunik Ayurveda stands 100% transparent in each step which works best in long term interest of both buyer & seller.
Custom Formulation Aadhunik Ayurveda provides the opportunity to develop custom skincare, and health and wellness products with 100% chemical free formulation, creation, registration, packaging, trademark, designing, and printing.
Aadhunik gives you the option to choose more than 500 existing products formulated to private label on your brand name. And that makes Aadhunik Ayurveda the much experienced, best certified custom formulation manufacturer of Baby Skincare and health care products.
Manufacturer of Baby Diaper Rash Products
World Class Facility and Global Strands Aadhunik Ayurveda with world class facility is ISO & GMP certified and complies with the requirements of all needed departments and agencies to undertake private labelling manufacturing of baby care products and other manufacturers compliant with global standards and environmental regulations.
Transparent and Ethical Working Aadhunik come with close to a decade experience, with an aim to serve the best in the market. We are preferred as the best manufacturer for transparency and ethical business standards.
Certifications Aadhunik Ayurveda is an ISO, GMP, FSSAI, FDA and USDA certified company that allows us to manufacture the extensive and best range of Baby Skin care Products.
This is possible simply because for everything the company is fully integrated backward to forward keeping a close connection for raw material sourced from farmers for ensured quality seeds, and in-house distillery hence everything from farm to bottles and jars are done under one roof thereby ensuring quality with just no adulteration. It is easy and simple to seek private label-white label baby skin care products manufacturing services with low investment budget friendly and low Moqs.
Aadhunik Ayurveda is the leading Baby Skincare products manufacturer, supplier and exporter in India because of its authentic products. It is a well-known certified natural and organic skincare ayurvedic products company in India.
Private Label Baby Ayurvedic diaper rash cream with aloe vera
Private Label Baby Ayurvedic natural lavender and chamomile diaper rash balm
Why is Adhunik Ayurveda the Top Baby skin Care Product Manufacturer in India?
With the growing demand for a clean-safe & better quality range of baby care products, brands need to hook up with best world class - quality driven manufacturing companies. Our company does not compromise with the manufacturing of the products and hence we use all the top class raw material and prepare raw material in house to ensure quality in the final product.
From collecting raw material from farmers like almonds, apricots, lavender, jojoba, chamomile, rose, green gram, coconut, sunflower, turmeric, vacha, liquorice, marjoram, sesame etc. to traditional processing to produce cold pressed oils, hydrosols, essential oils and herbs for infusion, every step is undertaken with utmost care to retain the nutritional profile and aroma. We have a team of experts who supervise the manufacturing process of all the products and produce a 100% satisfactory range of products. Moreover, even as making the baby products, we do not use any nasties not only in the product but such chemicals are not the part of our formulation and hence can not be found in the facility at all. Aadhunik Ayurveda is capable of manufacturing bulk orders and adheres to GMP, ISO and USDA regulations to produce certified baby care product range. So, join Aadhunik Ayurveda to get the best quality of Baby care like, shampoo, lotions, diaper rash cream, massage oil, hair oil, face cream, soap, sunscreen, etc.
Find the complete healthy skin care product solution under one roof - from an idea to ready to use product.
I am looking to develop plastic free and 100% chemical free baby products under my brand. Suggest how to go about with the products you have years of expertise."
Yes, we can develop a 100% plastic free and 100% chemical free baby skin care product range for you. And you would be able to claim it under edible beauty because we will be using 100% edible ingredients to formulate the products be it moisturizer, cleanser, massage oil, diaper rash balm or a face cream. For more details, please drop an email to us at aadhunikayurvedavitals@gmail.com or whatsapp us at +91-81-71-3076-01