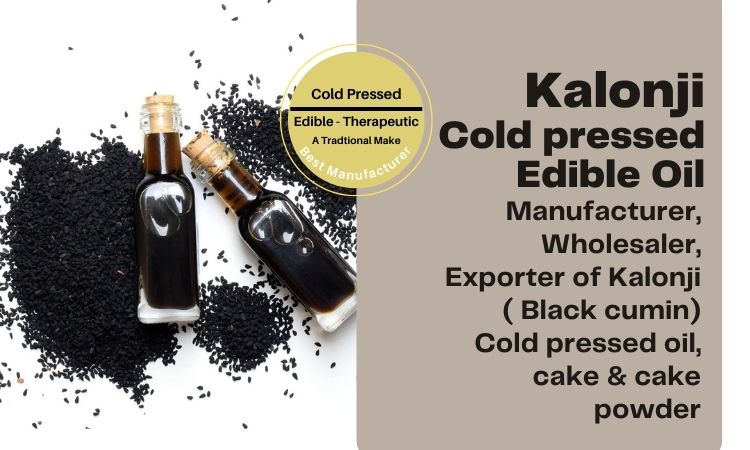 Kalonji Seed Oil Manufacturer & Supplier in India
In India, each dish is incomplete without spices, "kalonji" also known as black cumin is a very popular spice in every kitchen. It is a flavorful spice that has its own sweet and nutty flavor; kalonji is a widely used medicinal plant that has a history of a thousand years.
Black seed oil is an important plant in Indian Ayurveda. Black seed oil is an old remedy that has been used for thousands of years, its therapeutic benefits range from health to skin care & cosmetics, including weight loss, and skin conditions, and even lower the risk of cancer and diabetes.
It was historically used to treat toothache, headache, nasal congestion, asthma, arthritis, and intestinal worms. It can also be used for conjunctivitis, abscesses, and parasites. It also offers a long list of science-backed health and beauty benefits, thanks to its content of antioxidants and other bioactive compounds.
The active ingredients in black seed oil that are responsible for most of the oil's health benefits are thymoquinone and thymohydroquinone. Thymoquinone is an antioxidant that helps protect cells from damage caused by free radicals. It also has anti-inflammatory and anti-cancer properties.
Thymohydroquinone has antioxidant and anti-inflammatory properties. It also helps improve liver function.
The nutritional value of kalonji
Kalonji seeds is a powerhouse of crude fibers, amino acids, iron, sodium, calcium, and potassium. Kalonji is also rich in vitamins that include- vitamins A, B, C, and vitamin B12. Kalonji oil is much better than other oil as it contains essential fatty acids, Vitamins, and minerals. It comprised approximately 17% protein, 26% carbohydrates, and 57% plant fats and oils.
What is black seed oil?
Kalonji or Black seed oil is obtained from tiny black seeds from >b>Nigella sativa. These seeds are used worldwide in baking, cooking, and beverages to add flavor to pickles, curries, parathas & bread. Black seed oil is well known for its anti-inflammatory and antioxidant properties that are useful in relieving skin and body inflammation. It is widely used for its many health benefits and therapeutic uses for many years.
Making of cold-pressed kalonji seed oil at Aadhunik Ayurveda
The making of kalonji oil at Aadhunik Ayurveda is a traditional technique of cold pressing the seed. It is the best technique where the seed is pressed between the two metal rods and the oil is released. There is no addition of any heat or any other ingredients to prepare the oil. This helps retain the aroma and nutritional content of the oil. This kalonji seed oil is 100% pure, virgin, raw, and unrefined oil good and safe to consume and apply.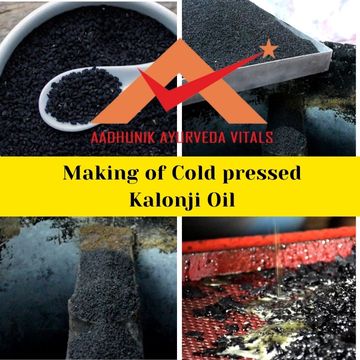 Bulk Manufacturer, Supplier, Wholesaler & Exporter of Kalonji Oil
Aadhunik Ayurveda is the best manufacturer, supplier & exporter of cold pressed kalonji seed oil in India. The raw material for the kalonji seed cold pressed oil is sourced from farmers from different regions of Uttar Pradesh.
Aadhunik Ayurveda offers natural & organic (in-house) forms of cold pressed oils to their customers. No chemicals, additives, or fillers are added to them. They also do not contain any artificial colors, preservatives, and fragrances. Therefore, they prove to be ideal for daily use.
We employ numerous tests and quality checks to ensure that only premium-quality and black seed - kalonji oil reaches you. We assure you that all our products adhere to the highest criteria of safety and quality.
Though kalonji essential oil is skin-friendly and safe, you must dilute kalonji essential oil with a compatible carrier oil as it is very powerful.
We also deploy proven methods for activities like processing, packaging, and delivery. Our wide range of edible pure cold pressed oils include coconut, hempseed, gotu kola, pumpkin, watermelon, almond , apricot, mustard, flaxseed, sunflower etc. and many others are available at reasonable rates. We are the leading supplier of pure & edible cold pressed oils in the whole world.
Apart from that, a secure payment gateway is provided to ensure the safety of your transactions. The best packaging standards and collaboration with top logistic companies like DHL, Bluedart, Delhivery, etc., enable us to provide undamaged & healthy cold pressed oil to our customers. Buy your favorite cold pressed oil today and bottle it with us through our private label services, and we assure you that you will be able to reap many benefits from it!
Aadhunik Ayurveda is the best kalonji oil - black cumin oil private label company providing easy and low investment services to add healthy effective products to your brand.
Uses of black seed oil
The oil is used to cure various health issues.
It helps reduce blood pressure, and cholesterol levels, and treat cancer.
Black seed oil is also used in the preparation of various desserts and cuisines as a flavoring agent
It is also used in cooking to add a spicy touch to pickles, bread, & curry dishes.
The oil has been known to fight various diseases by increasing immune cell and bone marrow production
Benefits of black seed oil for health
Kalonji is very effective for heat; it keeps your heart healthy by controlling bad cholesterol levels in your body.
Kalonji can help you to increase your body metabolism to make you look slim & trim
Kalonji is full of antioxidants that neutralize the free radicals that can cause cancer. It specifically works against breast cancer, cervical cancer, lung cancer & pancreatic cancer.
Kalonji oil supports & boots the immune system & promotes the wellness of the lungs & other respiratory organs.
Kalonji oil is also beneficial for the digestive system.
Benefits of black seed oil for hair
Black seed oil is rich in antioxidants and has antifungal, and antibacterial properties that help in treating scalp infections and make it healthy. It also helps with dandruff and other skin infections
Thymoquinone and nigellone are two of the nutrients present in black seed oil. These are powerful nutrients and work against hair fall.
Black seed oil is antifungal and antibacterial. It treats minor skin infections. Black seed oil can treat scalp infections and keep dandruff away.
Black seed oil has many nutrients, including thymoquinone, which are beneficial in controlling hair fall, and promoting hair growth. It also balances oil production and soothes scalp skin. This moisturizes hair and boosts growth.
Benefits of black seed oil for skin
Black seed oil is rich in vitamin A & amino acids and helps to lessen acne scarring.
Applying black seed oil topically lessens skin irritability while enhancing skin
Applying black seed oil can increase the moisturizing effects of your moisturizer & keep your skin feeling soft & silky for several hours.
Applying black seed oil to your skin helps treat common skin illnesses, like psoriasis & eczema.
Kalonji seed oil is an ingredient very much found in nutraceutical and cosmeceutical products as an healing ingredient. Strengthen your product's efficacy with natural yet potent time-tested ingredients.
Side effects of black seed oil
Black seed oil is generally safe to use, but some people may experience side effects. The most common side effects are gastrointestinal upset, such as nausea, vomiting, and diarrhea.
People with a history of allergies to nuts or seeds should avoid black seed oil, as it may cause an allergic reaction.
Pregnant women and breastfeeding mothers should not take black seed oil, as there is not enough information to determine its safety. Black seed oil should also be avoided by people taking blood-thinning medications.
Precaution
Add it your cooked or raw recipes ready to eat. Do not eat/apply the oil if you are allergic to kalonji seeds. Always do a patch test when using the product for the first time to avoid unknown allergies.
Storage
Always stores the oil in a cool and dry place. The oil is good to use for years from the date of cold pressing.
FAQ
1.Can we drink black seed oil?
Don't consume in more amounts as it can be dangerous. Eat in moderation. It should be eaten raw.
2.Can black seed oil be used as aromatherapy?
Yes, black seed oil can be used for aromatherapy by adding some herb oil to it like turmeric, fennel, carom, cinnamon, clove etc.